19 December 2020
GFA BOV Gozo Football League Division II – Match Day 5 Kercem Ajax Stadium
Qala Saints FC : 3
Zebbug Rovers FC : 1
53' (0-1) Bartomeu Perello Palou
78' (1-1) Charlon Farrugia
90' (2-1) Ebube Ralph Okpokwu
90+3' (3-1) penalty Charlon Farrugia
Qala S:
M. Muscat, J. Portelli, S. Sillato (R. Meilak), E. Galea (M. Zerafa), J. Buhagiar, S. Muscat (M. Buttigieg), S. Farrugia, C. Farrugia, E. Buttigieg, E.R. Okpokwu, M. Xerri.
Zebbug R:
B. Saliba, S. Farrugia, I. Buttgieg, M. Camilleri, C. Gauci, L. Farrugia (O. Atzori), E. Scerri, J. Azzopardi (P. Spiteri), J. Micallef (K. Bonnici), B. Perello Palou, R. Saliba.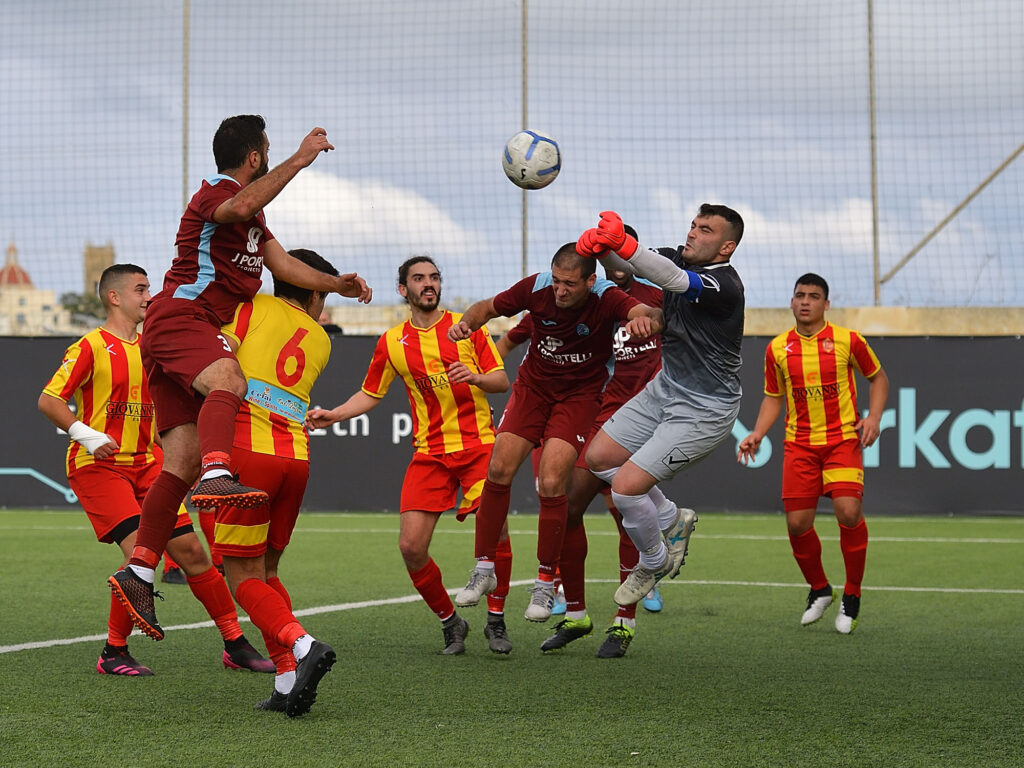 Qala Saints once again showed a strong character in a match from the BOV Gozo Football League of the second division and turned a defeat into a 3-1 win, with late goals in their match against Zebbug Rovers. This was the last match of the first round for the two sides and it was also a direct clash for the top position. Zebbug could have earned sole leadership with a win while Qala could have defended a one point lead over Zebbug with a draw but they aimed to win the full points at stake to extend their lead over the other contenders for promotion.
At the end the match was well contested and seemed heading to finish in a draw of two goals but Qala kept insisting and their efforts were rewarded as they clinched the win with two goals that arrived during the dying moments of the encounter. With this result the Maroons ended the first round undefeated and become the hot favourites to win the top honour of the category at the end of the campaign.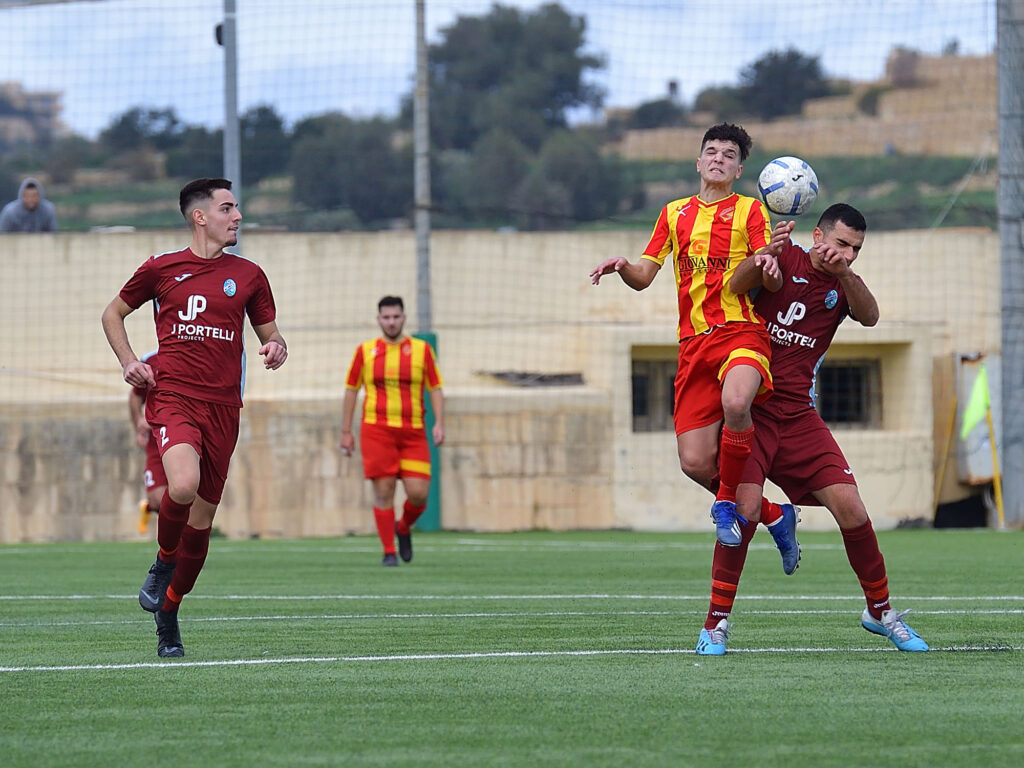 Timeline
Qala were more offensive than their opponents for most of the first period but Zebbug were well deployed and also managed to operate some dangerous breaks. As a result the actions at the the two ends of the pitch during the first half were rare.
9' A free kick by Qala's Emanuel Buttigieg arrived to Joseph Buhagiar but the latter saw his header saved in two attempts by goalie Baskal Saliba.
15' Zebbug through a shot by Bartomeu Perello Palou that was blocked by defender Emmanuel Buttigieg.
29' Zebbug's Bartomeu Perello Palou entered Ql's area with a personal action but he was denied from concluding towards goal with an excellent intervention by defender Emmanuel Buttigieg who managed to clear the ball in time to a corner.
31' Qala's Charlon Farrugia delivered a good cross fork the right flank but Ebube Ralph Okpokwu headed badly from close distance and the ball ended wide.
HT (0-0)
Play became much more interesting after the break as the two sides went all out to score.
8' (0-1) Zebbug opened the score in their first serious attempt of the second period as Bartomeu Perello Palou fired in goal directly from a free kick.
Qala had an immediate reaction and as time passed by they piles more pressure on Zebbug's defence.
20' an effort by Ebube Ralph Okpokwu from inside Zebbug's area ended high.
25' Qala were again dangerous through a back heel by Ebube Ralph Okpokwui following a low cross by Stefan Farrugia but goalie Baskal Saliba was well placed and managed to block the danger.
28' Zebbug's keeper had good timing to punch away from the goalmouth to deny Ebube Ralph Okpokwu from heading towards goal following a cross from the left flank by Charlon Farrugia, and form the same action a shot on the run by Manwel Xerri missed the target.
31' Qala were unlucky when a strike by Stefan Farrugia following a prolonged personal initiative inside Zebbug's area was stopped by the crossbar.
33' (1-1) Qala levelled the score when Ebube Ralph Okpokwu entrerd Zebbug's area from the left hand side and his low cross was cleared baldy from the goalmouth by Manuel Camilleri but the ball arrived to Charlon Farrugia who placed easily in goal from close diatance.
38' Qala continued to produce pressure on Zebbug's defence and were also dangerous through a free kick by Ebube Ralph Okpokwu that was saved with difficulty to a corner by goalie Baskal Saliba.
45' (2-1) Qala turned the result in their favour when Stefan Farrugia entered Zebbug's area from the right flank and from his low cross Ebube Ralph Okpokwu resisted to the pressure of Justin Micallef and managed to push the ball into an open goal.
45+3' (3-1 penalty) Qala made sure of the win when they were awarded a penalty for a foul by Ian Buttigieg on Mawel Xerri and Charlon Farrugia converted from the spot kick.
FT (QS 3 – ZR 1)
Referee: George Anthony Attard