18 February 2021
GFA BOV Gozo Football League Division I – Match Day 8 Gozo Stadium
Ghajnsielem FC : 6
Sannat Lions FC : 1
18' (1-0) Joseph George Vella
40' (2-0) Rodney Buttigieg
47' (2-1) Lucas Baretto Da Silva
55' (3-1) Jhon Arboleda Valencia
59' (4-1) Jhon Arboleda Valencia
73' (5-1) Rodney Buttigieg
86' (6-1) Sebastien Martinez Turizo
Ghajnsielem FC:
A. Parnis, Al. Xuereb, K. Mercieca, K. Farrugia, An. Xuereb (K. Borg), J. Arboleda Valencia, J.G. Vella (S.F. Bajada), K. Grima (M. Bezzina), R. Buttigieg, S. Martinez Turizo, J. Camilleri (De. Bogdanovic). 
Sannat L:
L. Xuereb, L.B. Da Silva, J. Zammit, D. Hili, D. Borg (O. Calleja), C. Vella (A. Azzopardi), M. Mifsud, J. Buttigieg, B. Said, H. Santa Rosa Cruz, F.J. Xuereb (H. Muscat).
Challengers for the title Ghajnsielem remained the only unbeaten side in the top flight and in their seventh match of the championship they also obtained a handsome 6-1 win over Sannat Lions. This match was considered as a good test for the two sides as Ghajnsielem needed to confirm their sole leadership against a side who were coming from a series of good performances and who managed to establish a comfortable mid-table. Sannat were therefore aiming to give a strong challenge to the leaders but they only managed to remain in contention until they conceded the third goal.
As expected Ghajnsielem saw more of the ball but during the first hour of play Sannat created some scoring opportunities where they could have surprised their more quoted oppoents. Ghajnsielem capitalised from the crucial moments of the encounter and inflicted a heavy defeat on Sannat despite having their prolific striker, and current top scorer of the championship, Igor Nedeljkovic missing. The protagonists for Ghajnsielem in this match were Jhon Arboleda Valencia and Rodney Buttigieg, the ex-Xewkija striker who was playing the first match in the championship since joining the Blacks at the beginning of the month, who scored a brace each.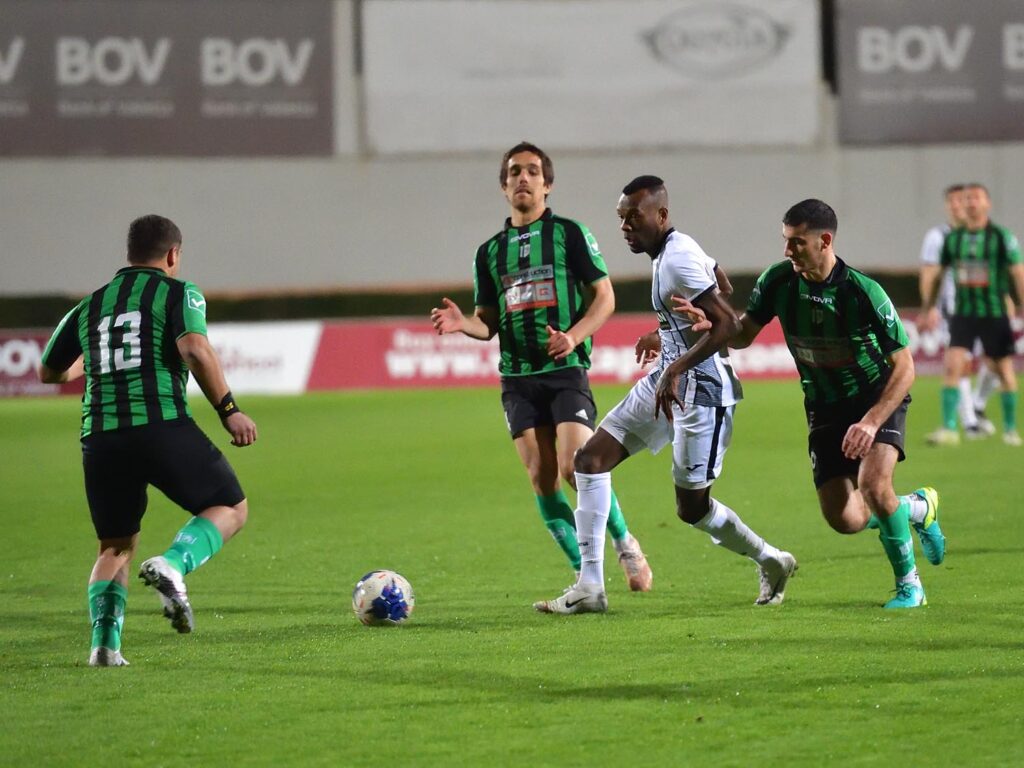 Timeline
Ghajnsielem took command of play form the early stages and went very close to take the lead at an early stage of the encounter.
3' Ghajnsielem were unlucky when Rodney Buttigieg received the ball inside Sannat's area and addressed towards goal as the goalkeeper left his position in an attempt to block the danger, but the ball was stopped by the post and the defence cleared the danger.
8' The same Buttigieg could have capitalised better following a cross from the left by Kenneth Mercieca, but his header ended away from goal.
11' Ghajnsielem were denied from another opportunity when Sannat's central defender Joseph Buttigieg made an important and decisive intervention to block the ball to a corner as Ghajnsielem's Johnny Camilleri was at the point to hit towards goal from a good position.
18' (1-0) Ghajnsielem opened the score when Jhon Arboleda Vlencia passed outside the area to Joseph George Vella and the latter surprised Sannat's keeper with a fine shot.
26' Sannat operated a counter break through Hugo Santa Rosa Cruz. The Brazilian striker released Brandon Said but the latter hit badly and the ball ended wide.
Ghajnsielem continued to administer play.
36' Sannat Lions could have levelled the score following another break by Hugo Santa Rosa Cruz who passed to Brandon Said but Ghajnsielem's goalie Adrian Parnis went out of his area in time and blocked the danger to a corner.
39' Sannat once again threatened Ghajnsielem's defence through a free kick from long distance by Hugo Santa Rosa Cruz ended away from goal.
40' (2-0) Sannat were punished for the missed opportunities as Ghajnsielem doubled the score. Sannat's defence failed to clear the ball from the goalmouth following a prolonged action and the ball arrived to Rodney Buttigieg who concluded easily in goal from close distance.
HT (2-0)
Sannat came out more aggressive for the second period and during the initial stages they surprised their opponents.
2' (2-1) Sannat reduced the score through a fine header by Lucas Baretto Da Silva following a corner kick by Hugo Santa Rosa Cruz.
Ghajnsielem seemed shocked.
8' Ghajnsielem's goalie Adrian Parnis was well placed and took the ball in time following a cross from the left flank to deny Hugo Santa Rosa Cruz from heading towards goal.
9' Sannat were again dangerous through a strike from outside the area by Damon Hili that was neutralised by Ghajnsielem's keeper.
10' (3-1) Ghajnsielem however, managed to regain the two-goal lead when Jhon Arboleda Valencia took the ball from a short clearance by Sannat's keeper and his shot ended in goal despite the attempt by Sannat's keeper to block the danger.
14' (4-1) Ghajnsielem took full command of play and added another goal when Joseph George Vella passed through Sannat's defence from the left flank and Jhon Arboleda Valencia followed the action and took the inviting low cross by pushing the ball into an open goal.
24' Ghajnsielem could have scored another goal but Johnny Camilleri and Rodney Buttigieg both failed to connect to a cross by Kurt Grima.
24' In the following action Sannat replied with an effort by Hugo Santa Rosa Cruz that ended wide.
28' (5-1) Ghajnsielem scored their fifth goal when Sannat's keeper Lorjean Xuereb partially saved a strike by Sebastien Martinez Turizo and from the rebound Rodney Buttigieg took the ball and netted in his second attempt as his first shot was blocked by the same goalie.
35' Sannat went again close to score a second goal but a shot from a good position by Hugo Santa Rosa Cruz missed the target.
36' In another offensive action by Ghajnsielem, a shot by Rodney Buttigieg ended wide.
37' Ghajnsielem's substitute Michael Bezzina had another good attempt through a shot from outside the area but the ball ended over the crossbar.
41' (6-1) Ghajnsielem sealed the win by scoring the sixth goal that arrived through a low shot by Sebastien Martinez Turizo who concluded a low cross by Jhon Arboleda Valencia that got a deflection by the defence.
FT (GHJ 6 – SL 1)
Referee: Stefan Pace