19 February 2021
GFA BOV Gozo Football League Division I – Match Day 8 Gozo Stadium
Nadur Youngsters FC : 2
SK Victoria Wanderers : 0
28' (1-0) penalty Marcelo Barbosa
41' (red card) Luke Tabone (NY)
52' (2-0) Marcelo Barbosa
Nadur Youngsters:
S. Sultana, M. Tabone, L. Tabone, I. Xuereb, M. Barbosa, C. Camilleri (S. Cassar), A. Debrincat (D. Atzori), G. Farrugia (M.P. Camilleri), G. Muscat (J. Buttigieg), E.Bruno Domingos, G. Hili.
SK Victoria W:
G. Ratto, E. Bugeja, A.J. Obaje, N. Camilleri, S. Harland (A. Refalo), E. Zammit, O. Curmi, N. Grech, N. Vella, O. Fenech (G. Cardona), D.U. Monday (E. Farhat).
Nadur Youngsters, who played more than half of the match with a player less on the field, scored a goal in each half in their match against relegation strugglers SK Victoria Wanderers to win the full points at stake and retained their ambition to be among the serious challengers for the title.
This was a match between two sides who needed points for different ambitions. Nadur were favourites to obtain a win with a large score while the Wanderers were aiming to obtain at least a point in an attempt to move away from the relegation zone. The outcome of the match saw the Youngsters satisfied for obtaining the three points while the Wanderers only managed to leave the field of play with a respectable defeat.
Although Nadur dictated matters for long stretches, they failed to convert their superiority in goals and failed to put their mind at rest from the win at an early stage of the match.  This was the second consecutive win for Nadur following the defeat conceded at the end of January in the match against Xewkija Tigers and therefore the reigning champions are showing signs of recovery from the unexpected setback.  However, the Youngsters still require improvement in their performances to achieve convincing wins so that they would boost their confidence in their potential that they could retain the title for another season.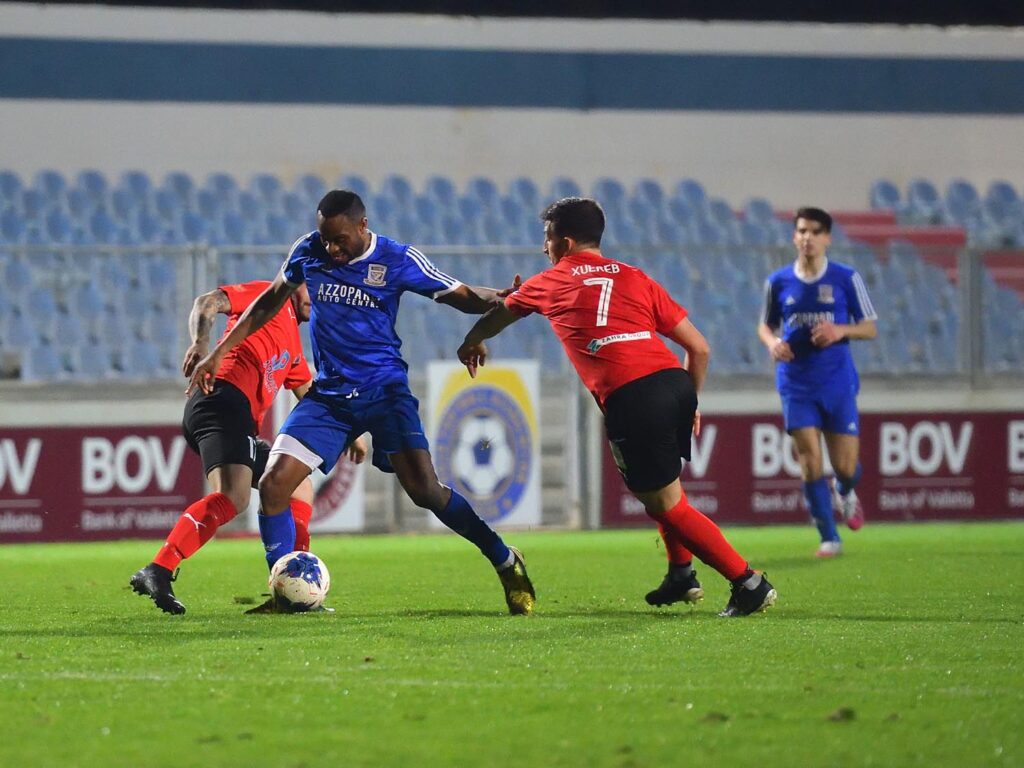 Timeline
Nadur took command of play from the early stages and during the opening minutes they produced pressure over Victoria's rear guard.
3' Victoria's goalie Giacomo Ratto was called to make a difficult save to block a strike by Nadur's Ederson Bruno Domingos.
4' In another offensive action by Nadur, Victoria's clearance arrived to Gennaro Hili who sw his shot on the run from long distance that was partially saved by goalie Giacomo Ratto. From he rebound Nadur's Andrea Debrincat concluded in the net but the goal was disallowed for an offside infringement.
Nadur kept insisting but as time passed by they found it difficult to penetrate through the defence so they ended up concluding their play through shot form outside they area.
12' Ederson Bruno Domingos had an attempt from outside the area that ended away form Victoria's goal.
19' In another action by Nadur outside Victoria's area, a strike by Marcelo Barbosa ended wide.
20' Nadur were again dangerous through a shot from long distance by Gabriel Farrugia that also ended away from goal.
25' Victoria replied through a header by Aud-Gustine James Obaje following a free kick by Neil Camilleri that ended wide.
27' (1-0) penalty – Nadur were awarded a penalty when an attempt from a free kick by Chris Camilleri was handled by defender Eman Bugeja and Marcelo Barbosa converted with his shot from the spot kick.
30' Nadur could have doubled the score but a header by Andrea Debrincat, following a cross by Marcelo Barbosa, Victoria's goalie managed to save to a corner with the aid of the crossbar.
30' The Wanderers threatened Nadur's defence with a shot by Aud-Gustin James Obaje but goalie Steve Sultana was well placed and saved the danger.
34' Nadur went again close to scoring but a header by Manwel Tabone from a corner kick by Chris Camilleri ended wide.
40' Nadur's Chris Camilleri had a shot from long distance that ended wide.
41' (red card) Nadur were reduced to ten players when central defender Luke Tabone pulled to the floor Victoria's Aud-Gustine James Objae before the latter entered the area in an open scoring opportunity.
HT (1-0)
For the second period Nadur continued to hold command of play despite the player less on the field.
7' (2-0) Nadur doubled the score when Victoria's defence cleared badly from their area and Marcelo Barbosa took the ball at the edge of the area and surprised the goalkeeper with a fine shot.
12' The Wanderers went very close to reduce the deficit but a strike by Emerson Zammit was saved with difficulty to a corner by Nadur's keeper Steve Sultana.
21' In another occasion the same goalkeeper Steve Sultana risked to commit a penalty when he took the ball from a free kick by Emerson Zammit but ended up hitting Victoria's striker Sam Harland who also had to be substituted.
28' Nadur could have concluded better but a first timer by Gennaro Hili, following a cross by Marcelo Barbosa, missed the target.
31' Nadur's last scoring opportunity arrived through an attempt by Marcelo Barbosa ended wide.
45+2' SK Victoria could have scored a consolation goal but a shot from long distance by Gabriel Cardona, who entered the field of play as a substitute during the first period, ended just over the crossbar.
FT (NY 2 – SKVW 0)
Referee: Sandro Spiteri