20 February 2021
GFA 2nd Division Cup – Kercem Ajax Stadium
Gharb Rangers FC : 1
Zebbug Rovers FC : 0
55' (1-0) Mario Theuma
70' (penalty missed – high) Matthias Michael Uzor (ZR)
81' (red card) Ruben Zammit (GR)
Gharb R:
J.P. Cassar, C. Hili, G. Sillato, J. Cefai Farrugia, P. Djorovic, L. Attard, S. Azzopardi (J. Muscat), F. Attard (R. Zammit), C. Cutajar (O. Saliba), M. Theuma (A. Tabone), M. Farrugia.
Zebbug R:
L. Gatt, M. Camilleri (I. Buttigieg), C. Gauci, K. Bonnici (A. Tourarha), L. Farrugia, M.M. Uzor, E. Scerri, O. Atzori, J. Azzopardi (P. Saliba), P. Spiteri, M. Formosa.
In the first match of the second most important competition for the lower category Gharb Rangers earned the first points from a 1-0 win over Zebbug Rovers. The GFA Second Division Cup is a round robin competition for the five teams of the category and the two teams who will finish at the first two places of the table will contest the final. In this match the two teams prevailed over the opponent for a half each, although Zebbug created more scoring opportunities than Gharb. Zebbug however were very erratic in their finishing and also gave away the possibility to start the competition with at least a point when they missed to convert a scoring opportunity form a penalty.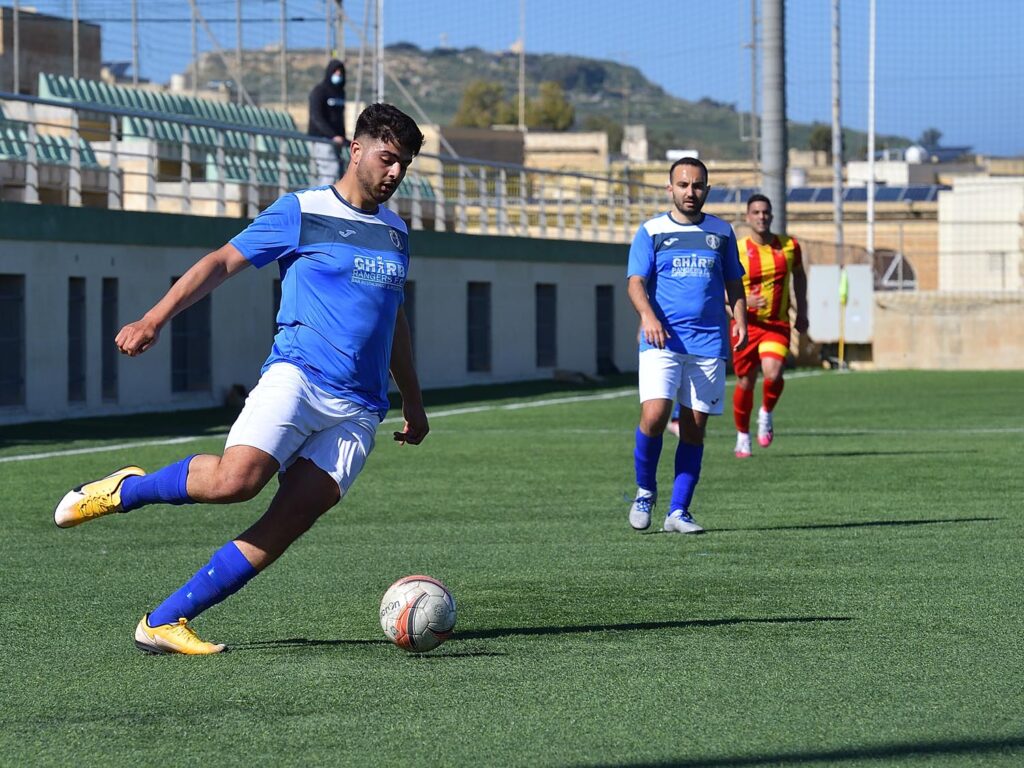 Timeline
During the opening stages of the encounter play took place mainly in the midfield as the two sides struggled to take some command of play and to operate dangerous actions at the two ends of the field. As time passed by Zebbug seemed more determined and created some good opportunities to take the lead.
25' Zebbug created their first attempt towards Gharb's goal from a free kick by Matthias Michael Uzor that ended high.
35' On another occasion Zebbug's Matthias Michael Uzor entered Gharb's area from the right flank but his low shot aimed to the far post ended wide.
40' Zebbug were again dangerous through a free kick by Joston Azzopardi was neutralised by Gharb's keeper John Paul Cassar.
42' The Rovers operated a good action on the right flank but from the cross by Lucas Farrugia, a lob by striker Orlando Atzori when the goalkeeper was out of his position ended wide.
45' Gharb replied through a free kick by Predrag Djorovic that was neutralised by Zebbug's keeper Liam Gatt.
45+1' Zebbug Rovers went again close to scoring through a strike by Kenneth Bonnici but his shot got a deflection by the defence and ended in a corner.
45+2' Zebbug's Oralndo Atzori had a close ranged attempt from a corner kick by Matthion Formosa but the ball ended wide.
45+3' Gharb could have ended the first half on the lead but a free kick by Predrag Djorovic ended just over the crossbar.
HT (0-0)
For the second period Gharb came out more determined and held command of the midfield while Zebbug found it ifficult to operate breaks within Gharb's territory.
10' (1-0) Gharb opened the score when Predrag Djorovic unmarked Mario Theuma on the right flank and the latter surprised Zebbug's keeper with a cross shot that ended in the upper corner of the far post.
Gharb continued to be the better side on the field of play but Zebbug kept insisting in an attempt to recover the score.
24' (penalty missed – high) – Zebbug had a golden scoring opportunity when they were awarded a penalty for handling by central defender Mario Farrugia following a free kick by Matthias Michael Uzor but the same striker saw his shot from the spot kick that ended over the crossbar.
36' (red card) Gharb were reduced to ten players when substitute Ruben Zammit was shown a second yellow card for a foul on Emanuel Scerri.
40' Zebbug went again close to level the score but a free kick by substitute Aaron Touarha ended just over Gharb's goal.
44' Zebbug's goalie Liam Gatt was called to make an important intervention to keep his side in contention when he left his position in time to block the attempt by Luke Attard who was alone in the area.
45+2' Zebbug had their last opportunity to save the result but shots by substitute Ian Buttigieg and Matthias Michael Uzor in separate action were both well saved by goalie John Paul Cassar.
45+3' Gharb could have sealed the win with a second goal but a close ranged header by Charles Hili following a cross by Predrag Djorovic was stopped by the post.
FT (GR 1 – ZR 0)
Referee: Jason Portelli