12 September 2021
GFA BOV Gozo Football League Division I – Match Day 2 Gozo Stadium
Ghajnsielem FC : 3
SK Victoria Wanderers : 0
66' (1-0) Sam Frank Bajada
89' (2-0) Igor Nedeljkovic
90+4' (3-0) Igor Nedeljkovic
Ghajnsielem FC:
A. Parnis, D. Bogdanovic (S.F. Bajada), K. Mercieca (D. Farrugia), S. Attard, M. Bezzina (K. Grima), K. Farrugia (J. De Sousa Ferreira), J. Arboleda Valencia, D. Galic, L. Grima, I. Nedeljkovic, J. Camilleri (An. Xuereb).
SK Victoria W:
G. Ratto, A. Agyeman, A.J. Obaje, E. Zammit (A. Adesina), O. Curmi, S. Harland (O. Fenech), N. Grech, K. Grima, D.U. Monday, G. Cardona, N. Vella.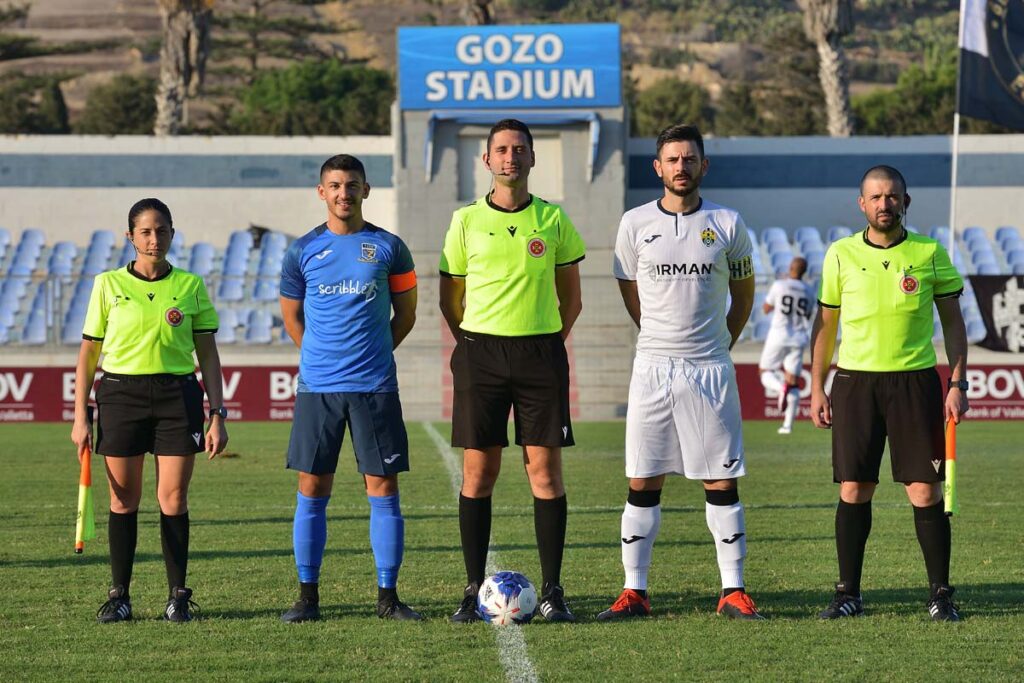 Ghajnsielem obtained the three points that they were expecting from their second match in the championship as they registered a 3'0 win over SK Victoria Wanderers. The Blacks were coming from an encouraging performance in their opening match where they earned a point from a draw against the challengers for the title Nadur Youngsters but for this match, they made a number of changes in the starting line-up and as a result, they failed to express their superiority over the Wanderers during the first period. The favourites to win the title Ghajnsielem however, took full control of play after the break, opened the score midway through the second half and made sure of the win with two other goals that arrived during the final moments of the encounter. On the other hand, the Wanderers were aiming to obtain the first point in the championship but they repeated the performance of their first match where they produced some good play during the first half but conceded pressure throughout the second period so that they ended up suffering a second heavy defeat.
Timeline
During the opening stages the Wanderers tried to share pay with their more quoted opponents but as time passed by the Blacks saw more of the ball and created some pressure on Victoria's defence.
5' Ghajnsielem's Jhon Arboleda Valencia had a low shot that missed the target.
8' The Wanderers replied through an attempt by Sam Harland towards the far post that ended wide.
11' Ghajnsielem's keeper Adrian Parnis was called to make a good save to block a strike from outside the area by Emerson Zammit.
14' Victoria's keeper Giacomo Ratto hesitated to neutralise a free kick by Dejan Galic but central defender Asante Agyeman managed to recover and cleared the danger form the goalmouth to a corner.
25' The Wanderers created a dangerous counter breakthrough Emerson Zammit, but from his inviting cross, Aud-Gustine James Obaje headed badly form a good position and the ball ended away from goal.
32' Ghajnsielem had an attempt by Michael Bezzina that was weak and Victoria's keeper saved without difficulty.
37' The Citizens almost surprised Ghansielem when the defence cleared badly inside their area a free kick by Victoria's Emerson Zammit and the ball arrived to Gabriel Cardona who hit badly from a good position and goalie Adrian Parnis managed to deflect the ball to a corner.
Ghajnsielem increased their efforts during the final stages of the first half.
41' Ghajnsielem replied with an effort by John Camilleri that missed the target.
45'+2' (goal disallowed) Ghajnsielem almost took full advantage of a mishap at Victoria's defence and Johnny Camilleri concluded in the net but the goal was disallowed for an offside
45'+3' A shot from outside the area by Jhon Arboleda Valencia
45'+4' Victoria goalie Giacomo Ratto saved in two attempt a strike by Ghajnsielem's Igor Nedeljkovic.
HT (0-0)
For the second period The Blacks came out much more determined and increased their efforts in an attempt to score an early goal which could pave the way for a win from this encounter.
30sec. Ghajnsielem lost a golden scoring opportunity when Jhon Arboleda Valencia entered the area from the right flank but his low inviting cross passed in front of Victoria's goal and ended wide a the strikers failed to connect.
2' In another similar action it was Ghajnsielem's Michael Bezzina who produced danger within Victoria's area but on this occasion John Camilleri arrived late and the ball ended wide.
4' Victoria's goalie Giacomo Ratto was well placed and managed to neutralise in two attempts a first timer by Igor Nedeljkovic after receiving from Dejan Bogdanovic.
11' (protests for penalty) Ghajnsielem protested for a penalty when Jhon Arboleda Valencia ended on the floor inside Victoria's area following a tackle by an opponent but the referee order simulation and the striker was also cautioned.
14' Ghajnsielem's Dejan Galic had an attempt from a free kick that ended far away from Victoria's goal.
17' In another offensive action by the Blacks a curling shot by Jhon Arboleda Valencia missed the target.
18' Ghajnsielem's Shaun Attard tried an effort from an angled position but the ball ended just over the crossbar.
21' (1-0) Ghajnsielem opened the score when Victoria's defence was surprised by a quick free kick taken by Dejan Galic and substitute Sam Frank Bajada cam from behind the rear guard and placed in goal with a low shot. This goal generated protests formj Victoria's players and supporters claiming that the assistant referee was still waiving when the free kick was taken.
Ghajnsielem continued to hold command of play.
39' A shot by Ghajnsielem's substitute Kurt Grima ended just high.
41' The Wanderers had their only attempt towards Ghajnsielem's goal of the second period but Aud-Gustine James Obaje headed badly from close distance and goalie Adrian Parnis saved without any difficulty.
44' (2-0) The Blacks made sure of the win by scoring he second goal when Jhon Arboleda Valencia won a ball form two opponents on the right flank, entered the area and from his low shot Igor Nedeljkovic came from behind the defence and fired in goal from close distance.
45+4' (3-0) Ghajnsielem scored their third goal through Igor Nedeljkovic who entered the area following a fat break and netted with a low shot towards the far post.
FT (GHJ 3 – SKVW 0)
Referee: Joseph Scerri