18 October 2021
GFA BOV Gozo Football League Division I – Match Day 7 Gozo Stadium
Ghajnsielem FC : 2
Sannat Lions FC : 4
7' (penalty missed – saved) Henry Fabian Solis (SL)
10' (0-1) Dylan Bellotti
25' (0-2) penalty Lucas Silva Gomes
72' (0-3) Henry Fabian Solis
74' (1-3) penalty Igor Nedeljkovic
77' (1-4) o.g. Kevin Farrugia
80' (2-4) penalty Igor Nedeljkovic
90' (red card) Jhon Arboleda Valencia (GHJ)
Ghajnsielem FC:
A. Parnis, K. Borg (K. Merceca), De. Bogdanovic, D. Farrugia, S. Attard, K. Farrugia, J. Arboleda Valencia, K. Grima (M. Bezzina), R. Watanabe, I. Nedeljkovic, J. Camilleri.
Sannat L:
L. Xuereb, A. Sutana, L.B. Da Silva, D. Bellotti (A. Azzopardi), H.F. Solis, D. Borg, L. Silva Gomes, F.J. Xuereb, M. Mamo, M. Mifsud, N. Biculjevic.
In the last match from the first round of the BOV Gozo Football League of the first division, Sannat Lions obtained an impressive 4-2 win over title contenders Ghajnsielem.  The outcome of this encounter was undoubtedly the biggest surprise so far in the championship as Sannat were struggling within the red zone, while Ghajnsielem were coming of a series of five consecutive wins where they did not concede any goals.  Therefore the Blacks were hot favourites to obtain three easy points which could have put them, joint leaders, with Nadur Youngsters.
Sannat's win was however well deserved as they showed great determination and also had the ability to capitalise from continuous defensive mistakes by Ghajnsielem. On the other hand, Ghajnsielem practically compromised the possibility to obtan a positive result during the opening minutes when they failed to express their potential in attack against a less quoted opponent and they lacked the necessary concentration to protect their defence whenever Sannat operated their breaks.  Ghajnsielem, therefore, got confused in their reaction and ended up being very erratic in the finishing so that they never managed to be in contention and kept trailing their opponents until the final whistle.
The match turned out to be very nervous during the dying moments particularly at the end of regular time when Ghajnsielem protested for a penalty but ended up with their player being shown a yellow card for simulation and as a result he was sent off since it was his second caution.
With the points obtained Sannat ended the first round at a comfortable fifth position on the table, with a lead over three teams in the red zone, while Ghajnsielem are now at the second place on the table with three points less than the sole leaders Nadur Youngsters.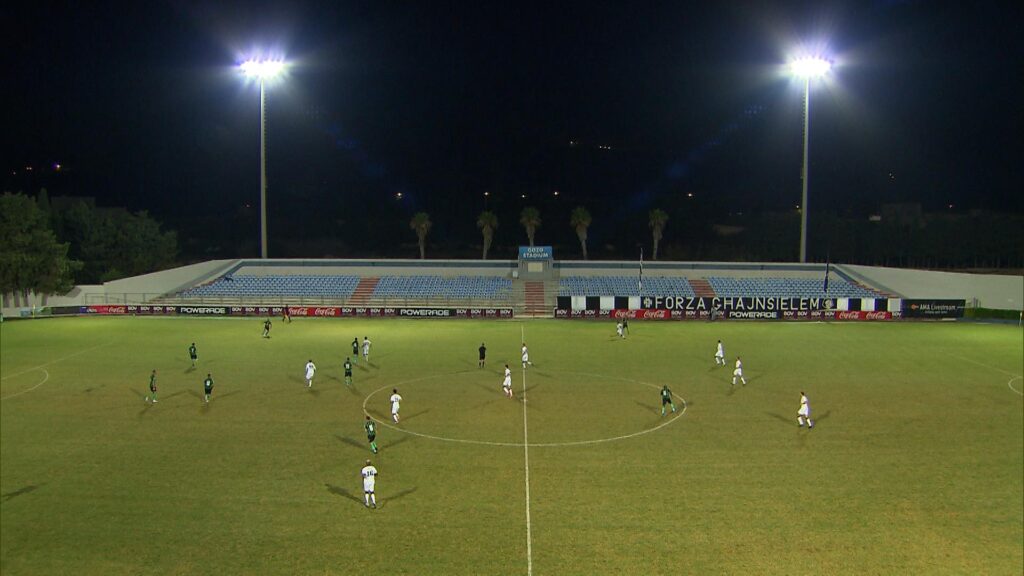 Timeline
Ghajnsielem as expected came out more aggressive but they seemed over-confident and were unprepared each time that Sannat threw the ball inside Ghajnsielem's territory. Sannat capitalised from these chances and opened a two-goal lead before the half hour mark despite missing a penalty kick at an earlier stage of the encounter. The Blacks increased their efforts during the final stages of the first half but did not manage to re-open the issue.
50sek. Ghajnsielem went close to score an early goal but a header from close distance by Ryota Watanabe ended high.
3' Ghajnsielem's Johnny Camilleri had an attempt from a good position that missed the target.
7' (penalty missed –saved) Sannat surprised Ghajnsielem's rear guard when Henry Fabian Solis produced a fast break and entered the area but ended on the floor following a challenge by the goalkeeper Adrian Parnis. The referee awarded a penalty but the same Solis had his shot form the spot kick that was saved to a corner by the goalkeeper.
10' (0-1) Sannat however opened the score when Dylan Bellotti arrived before the goalkeeper to take a long ranged free kick by Lucas Silva Gomes and headed into an open goal.
Ghajnsielem seemed shocked and took some time to produce a reaction.
16' The Blacks replied through an effort by Dejan Bogdanovic from outside the area that ended just high.
22' Sannat's golie Lorjean Xuereb was well placed and neutralised a free kick by Igor Nedeljkovic.
25' (0-2) penalty Sannat were awarded a second penalty for a foul by Kurt Grima on Lucas Silva Gomes and the same striker converted from the spot kick.
30' (goal disallowed) Ghajnsielem's Jhon Arboleda Valencia had a low shot from an angled position that was converted into the net by Johnny Camilleri but the latter was in an offside position and the goal was disallowed.
33' In another offensive action by Ghajnsielem a shot by Shaun Attard was blocked to a corner by the defence.
36' A free kick by Ghajnsielem's Ryota Watanabe was easily saved by the goalkeeper.
37' A low shot by Shaun Attard after receiving form Igor Nedeljkovic ended wide.
42' Ghajnsielem could have capitalised better but Shaun Attard headed weak following a through ball from outside the area and the goalkeeper saved without difficulty
HT (0-2)
Ghajnsielem came out more determined for the second period and pushed Sannat on the defensive from the early stages, bit the latter resisted well and continued to create danger through their sporadic actions within Ghajnsielem's territory.
6' Sannat's keeper Lorjean Xuereb was called to make a difficult save to block a low shot by Kurt Grima. Sannat's clearance by Lucas Baretto Da Silva was blocked inside the area and from the rebound got a deflection and was ending into an open goal but Sannat's defender Daniel Borg cleared the danger from the goalmouth so that the action ended with a strike from outside the area by Dejan Bogdanovic that ended high.
8' An attempt by Jhon Arboleda Valencia ended just over Sannat's crossbar.
9' In another action by the Blacks Ryota Watanabe's effort following a cross by Jhon Arboleda Valencia ended wide.
11' Sannat's goalie Lorjean Xuereb was again at the right place to block a good shot by Jhon Arboleda Valencia.
19' Ghajnsielem's goalie neutralised without difficulty a shot by Fabian Xuereb.
27' (0-3) Sannat once again surprised their opponents when Nebojsa Biculjevic won a free kick just outside the area at an angled position and from the resultant set-piece Henry Fabian Solis netted with a shot towards the far post.
29' (1-3 ) penalty Ghajnsielem reduced the deficit when they were awarded a penalty for a foul by Marlon Mamo on Igor Nedeljkovic and the same striker converted from the spot kick.
32' (1-4) Sannat however regained the three-goal lead when Ghajnsielem's central defender Kevin Farrugia committed an own goal when he headed badly towards his goalkeeper who was out of his position and the ball ended into an empty goal.
34' Sannat were again dangerous when substitute Aaron Azzopardi entered Ghajnsielem's area but his close ranged attempt was blocked to a corner by goalie Adrian Parnis.
35' (2-4) – penalty Ghajnsielem re-gained some hopes to save the result when they were awarded a penalty for handling by Lucas Baretto da Silva and Igor Nedeljkovic fired in goal wit his shot from the spot kick.
37' A shot by Ghajnsielem's Jhon Arboleda Valencia was well saved by goalie Lorjean Xuereb.
38' The same goalkeeper was again called to make a good intervention to save a low shot by Shaun Attard.
39' (goal disallowed) The Blacks had a goal by Ryota Watanabe, who headed towards the corner of the net, that was disallowed for an offside position.
42' A shot from outside the area by Ghajnsielem's Kevin Farrugia missed the target.
45' (red card) Ghajnsielem ended up with ten players when Jhon Arboleda Valencia entered the area with a personal action but ended on the floor following a challenge by Sannat's Aaron Azzopardi. The Blacks claimed a penalty but the referee judged the action as a simulation and the striker was sent off for a second caution among protests from Ghajnsielem's officials on the bench and the supporters on the stands. Play resumed after around five minutes and after two Ghajnsielem officials were sent off from the bench.
FT (GHJ 2 – SL 4)
Referee: Emanuel Grech