17 October 2021
GFA BOV Gozo Football League Division II – Match Day 2
Kercem Arkafort Stadium
Xaghra United FC : 0
Zebbug Rovers FC : 1
21' (penalty missed – saved) Daniel Mesa Pineros (ZR)
53' (red card) Eman Bugeja (ZR)
54' (penalty missed – high) Christian Debono (XU)
56' (red card) Emmanuel Galea (XU)
81' (0-1) Daniel Mesa Pineros
85' (red card) Savio Galea (XU)
Xaghra U:
L. Camilleri, J. Bajada, S. Galea, M. Perisic, A. Farrugia, C. Debono, M. Cordina (T. Agius), L. Attard, S. Sultana, F. Cauchi, E. Galea.
Zebbug R:
Om. Xuereb, I Buttigieg (M. Formosa), E. Bugeja, C. Gauci, D. Mesa Pineros, E. Gauci, M. Camilleri Psaila (J. Bonnici), M. Camilleri, N.J. Cini (A. Touarha), R. Saliba (J. Azzopardi), P. Spiteri.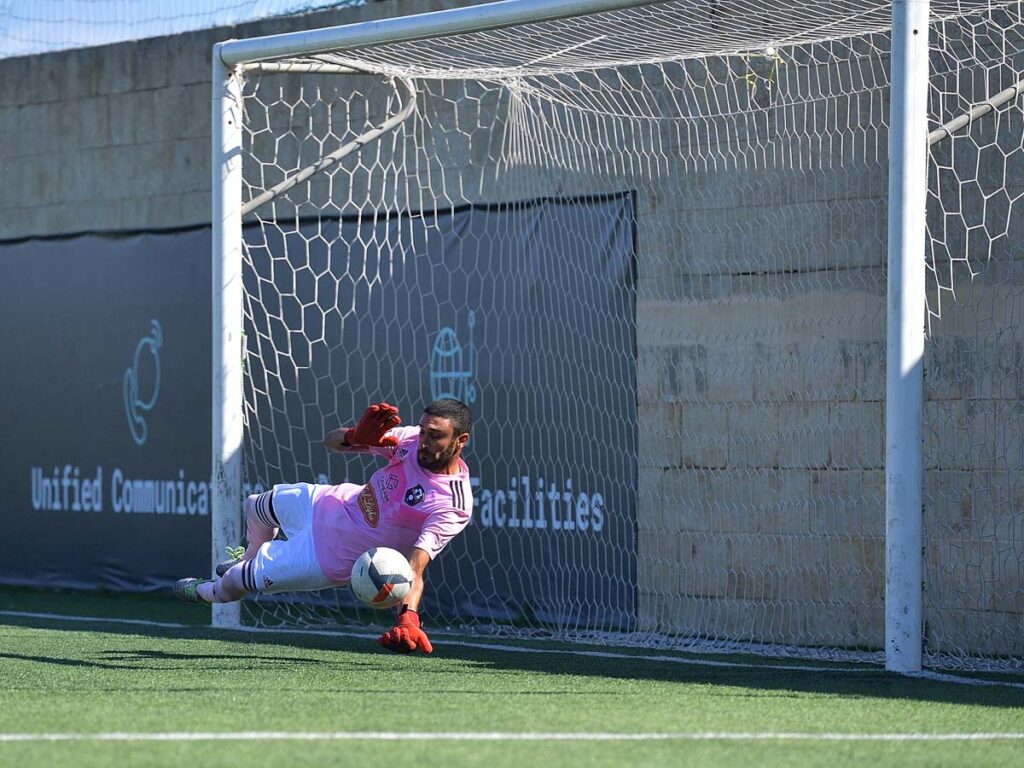 Zebbug Rovers obtained three important points from a close win over Xaghra United and took the top of the table with six points from two matches.  The encounter turned out to be well contested and with some dramatic moments despite the fact that Zebbug were more dangerous than their opponents throughout the 90 minutes.  However, Xaghra's goalie Leonard Camilleri was the main protagonist with a series of difficult saves to deny the Rovers from scoring more goals so that he kept his side in contention until the final whistle.  At the end the hero for Zebbug was their goalkeeper Omar Xuereb who made a brilliant intervention second form the end of stoppage time to save the win for his side.
The match produced all the factors of an exciting match with two penalty kicks that were not converted, a shot stopped by the woodwork, three players who were sent off and the final score that remained uncertain until the end.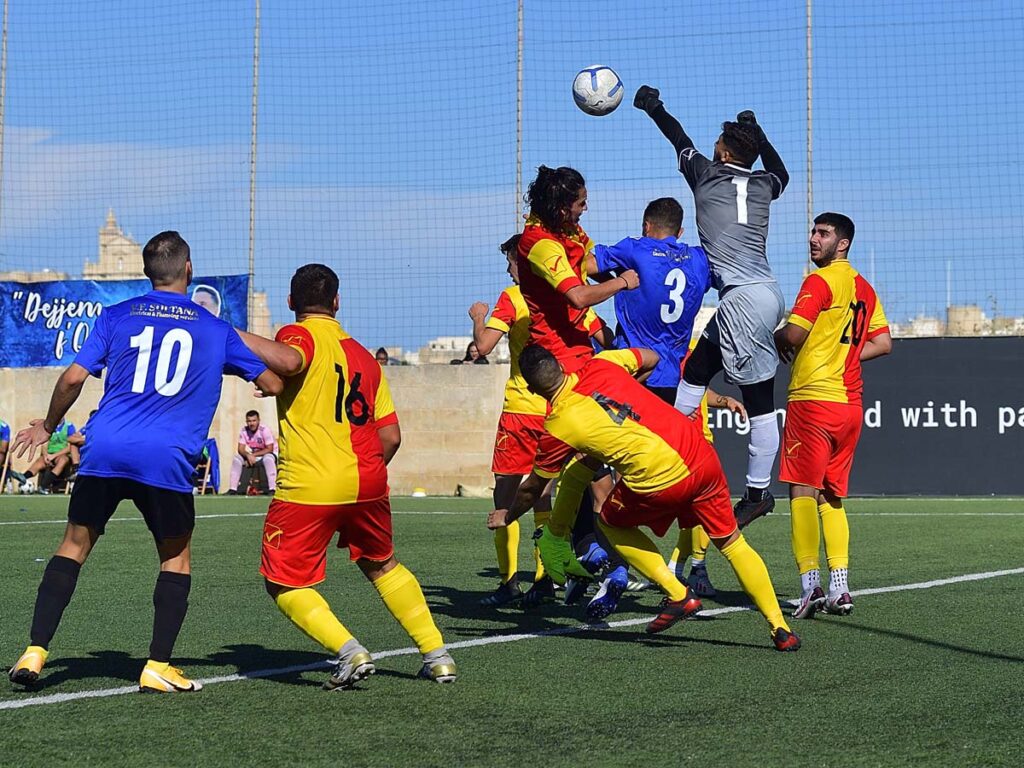 Timeline:
Zebbug had a better start and could have easily ended the first half with a comfortable lead.
5' Zebbug's Eman Bugeja had an attempt directly from a free kick that was well saved by goalie Leonard Camilleri.
17' The Rovers went again close to open the score but a low shot by Daniel Mesa Pineros after receiving from Nathan John Cini shaved the post.
20' Xaghra's defender Emmanuel Galea saved his goal when he blocked to a corner a strike by Paul Spiteri.
21' (penalty missed – saved) Zebbu8g were awarded a penalty for handing by Matthias Cordina, but the shot form the spot kick by Daniel Mesa Pineros was saved to a corner by goalie Leonard Camilleri.
22' From the resultant corner action taken by Eman Bugeja. A header by Ian Buttigieg from a good position missed the target.
26' Xaghra had their best opportunity to surprise their opponents when a strike by Johann Bajada was stopped by the crossbar.
35' Zebbug's Mattias Camilleri Psaila had a close ranged sot following a cross by Daniel Mesa Pineros that was well blocked by goalie Leonard Camilleri.
45'+1' The same goalkeeper was well placed and neutralised a long ranged free kick by Manuel Camilleri.
HT (0-0)
After the resumption the match became much more interesting as Xaghra managed to produce some offensive play and the two sides created good scoring opportunities.
7' The Rovers missed another golden scoring opportunity when Daniel Mesa Pineros entered Xaghra's area, turned around the goalkeeper but incredibly conclude wide with an open goal at his mercy.
8' (red card penalty) Xaghra were awarded a penalty when a shot by Johann Bajada following a melee in front of Zebbug's goal was stopped on the line and handled by defender Eman Bugeja, with the consequence that the defender was also sent off.
9' (penalty missed – high) Xaghra however failed to capitalise form he opportunity as the shot form the spot kick by Christian Debono ended high.
11' (red card) Xaghra were also reduced to ten players when Emmanuel Galea was sent off or a second bookable offence.
17' Zebbug's Eric Gauci had a low shot following a personal action that ended wide.
24' Xaghra's keeper Leonard Camilleri saved without difficulty a free kick by Daniel Mesa Pineros.
25' The same goalkeeper made two consecutive difficult saves to block a free kick by Manuel Camilleri and from the rebound the goalie blocked to a corner a close ranged shot by Eric Gauci.
28' Xaghra replied with a shot from an angled position by Johann Bajada that ended wide.
32' A shot by Zebbug's Nathan John Cini was blocked by Xaghra's goalie and the defence cleared the danger from the area.
36' (1-0) The Rovers managed to take the deserved lead when Daniel Mesa Pineros won the ball just outside Xaghra's area and the Columbian striker fired in goal with a fine strike.
38' Xaghra could have levelled the score when Zebbug's defence failed to clear the ball from a corner action and from the resultant melee, a header by Johann Bajada ended high.
40' (red card) Xaghra were reduced to nine players when Savio Galea was sent off after receiving a second yellow card.
45' Zebbug could have sealed the issue when substitute Matthion Formosa released Daniel Mesa Pineros but the latter incredibly concluded high when the goal was unattended as the goalkeeper was out of his position in an attempt to block the danger.
45'+2' (goal disallowed) Xaghra operated a dangerous break and Luke Attard concluded in the net but the goal was disallowed for handling by the same striker.
45'+5' Zebbug's keeper Omar Xuereb saved the result for his side when he managed to block a strike from outside the area by Arthur Farrugia
FT (XU 0 – ZR 1)
Referee: Jason Portelli