10 October 2021
GFA BOV Gozo Football League Division II – Match Day 1
Kercem Arkafort Stadium
Zebbug Rovers FC : 3
Gharb Rangers FC : 0
23' (1-0) penalty Eman Bugeja
73' (2-0) Matias Camilleri Psaila
90'+2' (3-0) Orlando Atzori
Zebbug R:
Om. Xuereb, I Buttigieg (M. Formosa), E. Bugeja, C. Gauci, D. Mesa Pineros, E. Gauci, M. Camilleri Psaila (O. Atzori), M. Camilleri, N.J. Cini (J. Azzopardi), M. Grech, R. Saliba (J. Bonnici).
Gharb R:
Ow. Xuereb, F. Cini, C. Grech, G. Debrincat (E. Xuereb), (O. Saliba), N. Attard (C. Cutajar), C. Dingli, M. Ciangura, D.R. Apestegui, J. Cefai Farrugia, M. Theuma, S. Azzopardi.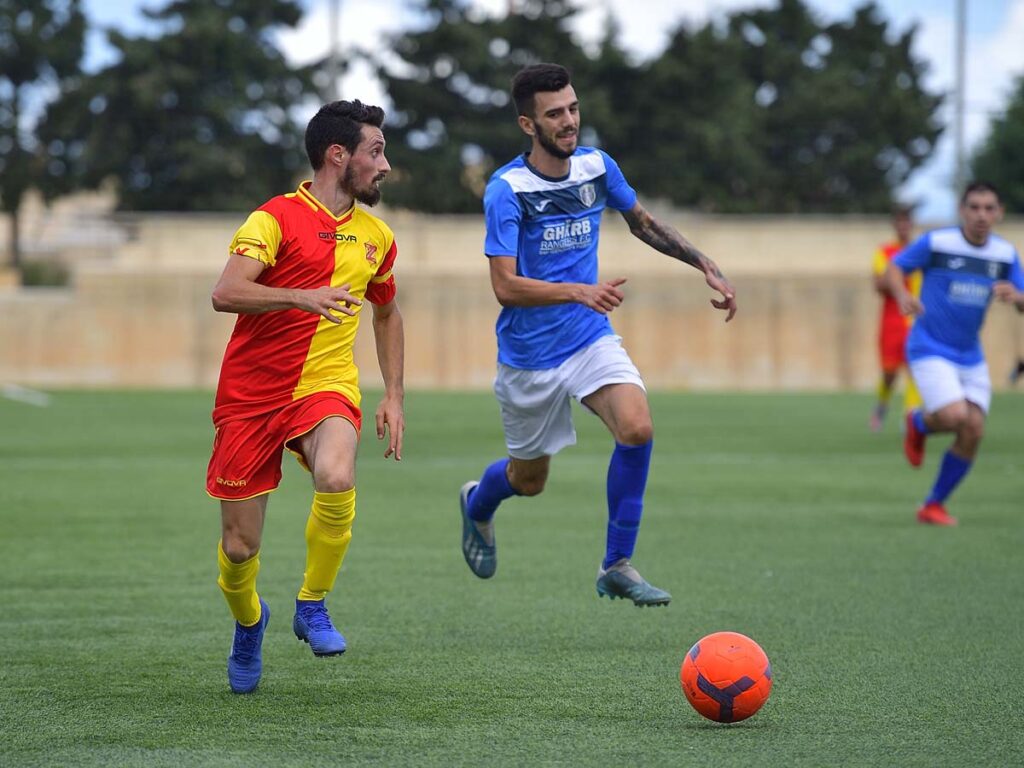 Zebbug Rovers had an excellent start in the BOV Gozo Football League of the second division as they earned three points from a 3-0 win over Gharb Rangers. Play during most of the match took place in the midfield where Gharb saw more of the ball but Zebbug defended well and were more dangerous than their opponents whenever they managed to produce offensive actions. Zebbug paved the easy to the win with a goal scored form a penalty during the first period and made sure of the win with two more goals scored after the break.
Timeline
Gharb tried to put pressure on Zebbug's defence from the early stages but the Rovers resisted well at their defence and also created more dangerous actions.
12' A header by Zebbug's Ian Buttigieg from a corner action ended just high.
14' Gharb's goalie was almost surprised but managed to block an effort by Columbian striker Daniel Mesa Pineros and the defence cleared the danger from the area.
23' (1-0) penalty – Zebbug were awarded a penalty for a foul by Mario Theuma on Daniel Mesa Pineros and Eman Bugeja converted form the spot kick.
43' Zebbug were again dangerous through a direct free kick by Eman Bugeja that ended on the side of the net.
HT (0-0)
After the break Gharb came out determined ti recover the score and increased their pressure on Zebbug's rear guard.
10' Gharb's Gabriel Debrincat had a header from an ideal position following a cross by Nicholas Attard that ended wide.
17' Zebbug replied with a shot aimed towards the far post that just missed the target.
24' Zebbug's Daniel Mesa Pineros could have doubled the lead for his side but his close ranged header from a free kick by Eman Bugeja ended high.
28' (2-0) The Rovers scored their second goal following a fast break by Daniel Mesa Pineos who entered Gharb's area and from his low pass Matias Camilleri Psaila guided the ball easily into an open goal.
45'+2' (3-0) Zebbug made sure of the win when Gharb's defence cleared badly when the keeper was out of his position and the ball arrived to substitute Orlando Atzori who addressed the ball into an open goal from long distance.
FT (ZR 3 – GR 0)
Referee: Jason Portelli