6 November 2021
BOV GFA KO Division I (Q/F) Kercem Arkafort Stadium
Kercem Ajax FC : 5
Xewkija Tigers FC : 3
After Extra Time
30' (1-0) Joshua Buttigieg
45' (1-1) Joel Xuereb
61' (2-1) Joshua Buttigieg
76' (2-2) penalty Joseph George Vella
102' (3-2) Wesley Simeao Dos Santos
113' (4-2) Euller Da Silva Rodrigues
116' (4-3) Haruna Shodija Shola
117' (5-3) Sebastien Martinez Turizo
Kercem A:
G. Bugeja (J. Micallef) , N. Mercieca (K. Vella), L.H. Santana Motta, N. Inguanez, J. Theuma, S. Martinez Turizo, J. Buttigieg, W. Simeao Dos Santos, J.P. Mizzi (I. Belhadj), A. Zammit, E. Da Silva Rodrigues.
Xewkija T:
E. Cirrincione, J. Axiak (M. Hrubsa), J. Vella, M. Mercieca, J. Buttigieg, J. Xuereb, M. Dingli (M. Farrugia), E.P. Lattes, J.G. Vella (J. Saliba), H. Shodija Shola, C. Abela.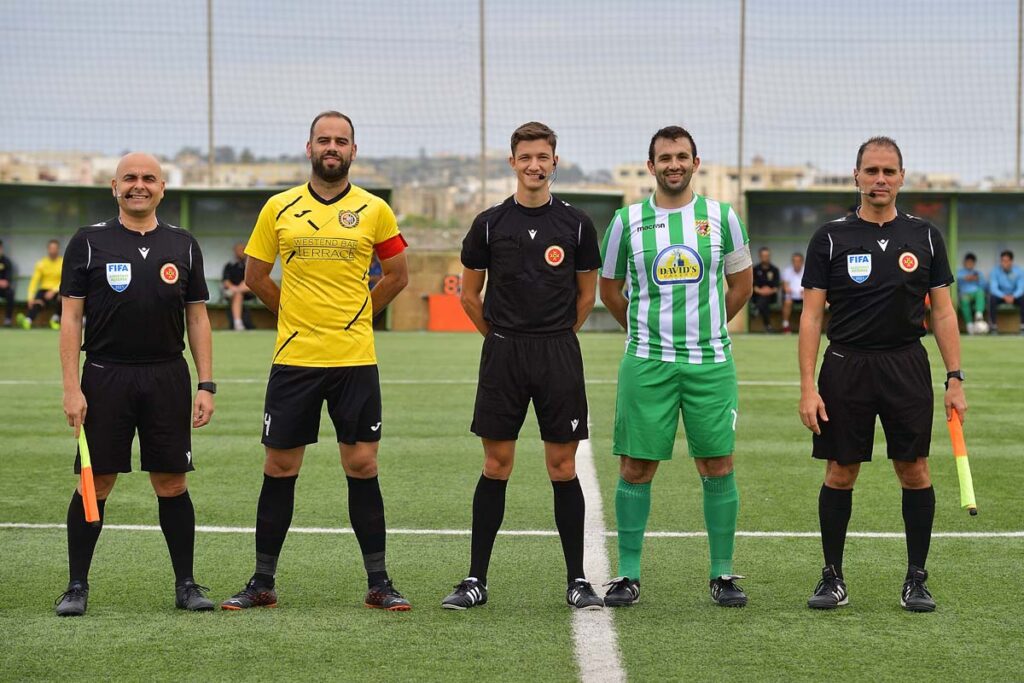 Kercem Ajax confirmed their excellent performances since the beginning of this season as they earned qualification to the semi-finals of the BOV GFA Knock Out competition with a 5-3 win over Xewkija Tigers. Thus was also Kercem's third win over Xewkija this season. The Ajax won the match from the championship and obtained won the other match against Xewkija to earn qualification to the quarter finals of the BOV GFA Cup.
In this match Kercem were the better side for long stretches but they were often erratic and missed the opportunity to put their minds at rest from the qualification at an earlier stage. Kercem should have opened a comfortable lead during the first half but Xewkija managed to recover the score and the qualification was still in contention at the break. The second period was practically a repetition of the first half as Kercem did not manage to capitalise form their superiority and at one point they seemed overconfident so that during the final stages of regular time Xewkija went closest to turn the result in their favour. Kercem however, opened a two-goal lead during extra time so that they managed to end the encounter in the lead and leave he pitch with a deserved qualification.
Xewkija had Rodney Buttigieg missing due to suspension for this encounter and although they showed character in producing a reaction each time that they conceded a goal from their opponents, they suffered Kercem's play for most of the time and they only expressed some motivation during the final minutes of regular time when their opponents lost their composure.  With this result Xewkija's only ambition for the rest of the season remain that of obtaining the best possible placing in the final standings of the championship.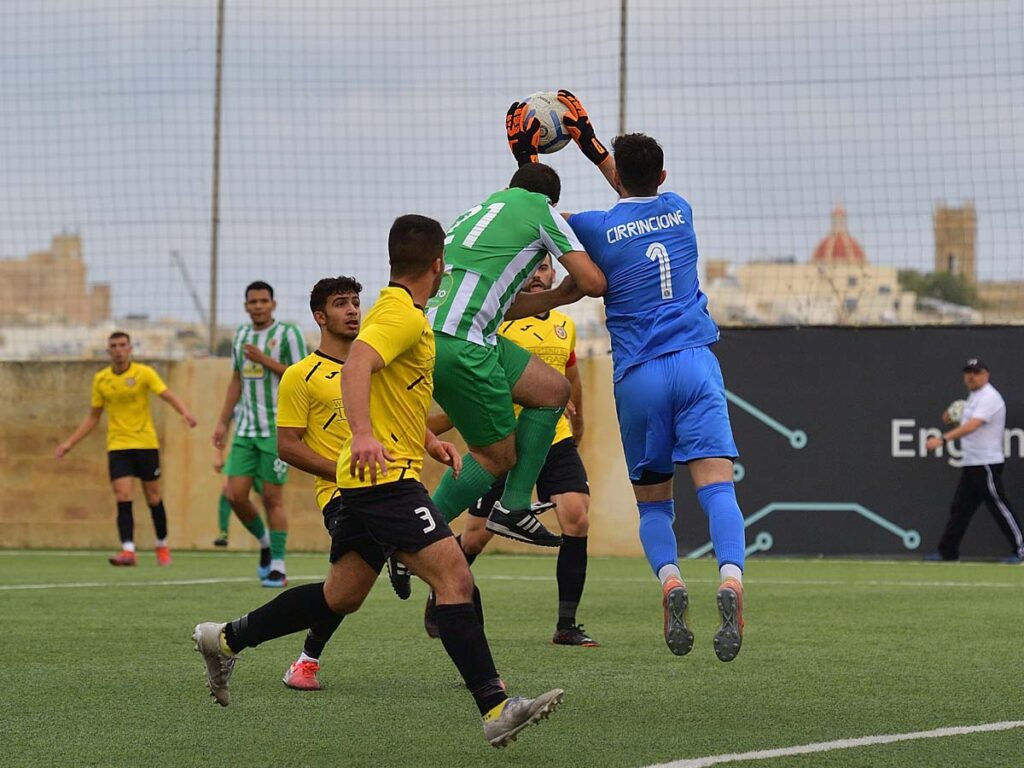 Timeline:
Kercem seemed more adventurous during the opening stages and held command of play for most of the first half.
5' The Ajax could have opened the score but a shot by Wesley Simeao Dos Santos from a dubious position was well blocked by Xewkija's keeper Emmanuel Cirrincione.
7' Xewkija replied through an attempt by Emiliano Lattes after receiving from Haruna Shodija Shola ended high.
16' Kercem were again dangerous when Euller Da Silva Rodrigues released Wesley Simeao Dos Santos but the latter concluded badly from a good position.
21' Kercem's striker Euller Da Silva Rodrigues had another attempt that missed the target.
25' In another good offensive action by Kercem, Wesley Simeao Dos Santos delivered an inviting ball to Euller Da Silva Rodrigues inside Xewkija's area but the latter incredibly failed to hit from a good position and the defence cleared the dnger.
30' (1-0) Kercem took the deserved lead through a fine header by Joshua Buttigieg following a free kick form the left flank by Sebastien Martinez Turizo.
Xewkija tried to produce a reaction but Kercem's goalie was not called to make difficult saves.
40' Kercem could have capitalised better when Euller Da Silva Rodrigues unmarked Jean Paul Mizzi but the latter saw his shot on the run well blocked by goalie Emmanuel Cirrincione.
43' The Ajax missed another good scoring opportunity when Euller Da Silva Rodrigues passed to Wesley Simeao Dos Santos who saw his attempt aimed towards the far post that ended just wide.
45' (1-1) Xewkija punished their opponents for the missed chances and scored the equaliser when Matthias Mercieca crossed from the left flank and Joel Xuereb arrived on the ball before the goalkeeper and concluded easily in goal.
HT (1-1)
Second Half
Play became much more interesting after the break as Xewkija seemed more confident while Kercem tried to regain command of the midfield.
6' Kercem's Wesley Simeao Dos Santos could have concluded better following a cross by Euller da Silva Rodrigues and the header from an ideal position ended wide.
11' Kercem insisted with a prolonged action just outside Xewkija's area and were unlucky as the final shot by Euller Da Silva Rodrigues hit the post with the goalkeeper beaten.
16' (2-1) The Ajax regained the lead when Xewkija's keeper Emmanuel Cirrincione partially saved a free kick by Euller Da Silva Rodrigues and from the rebound Joshua Buttigieg managed to push the ball across the fatal line.
19' Xewkija replied through an attempt directly from a free kick that ended wide.
24' Xewkija could have levelled the score but a curling shot by Haruna Shodija Shola was stopped by the crossbar.
27' Kercem should have sealed the win when Euller Da Silva Rodrigues entered Xewkija's area from the right flank but from his low cross Joshua Buttigieg failed to connect and the ball arrived to Sebastien Martinez Turizo who saw his strike that was blocked on the fatal line by central defender Josmar Vella and from the rebound the shot by Kercem's Jean Paul Mizzi was cleared by the defence.
28' Kercem's Joshua Buttigieg received an inviting ball at the edge of Xewkija's area but the striker hit badly an goalie Emmanuel Cirrincione saved without difficulty.
30' (2-2) penalty Xewkija scored their second equaliser when Haruna Shodija Shola entered Kercem's area with a personal action but was floored by goalie Gaetano Bugeja. The referee awarded a penalty and Joseph George Vella converted from the spot kick.
34' Xewkija had an attempt through Emiliano Lattes that ended away from goal.
35' Kercem replied with a personal action by Luiz Henrique Santana Motta who entered the area but concluded weak and Xewkija's keeper neutralised the danger.
36' Xewkija protested for a penalty when Matthias Mercieca ended on the floor inside Kercem's area when he tried to pass around Anthony Zammit.
45' Xewkija had a good scoring opportunity when Emiliano Lattes released Haruna Shodija Shola but the striker saw his shot that was deflected to a corner by Kercme's keeper.
90mins. (2-2)
Extra Time
The Ajax tried to make up for the disappointing final stages of the regular time by increasing their efforts in an attempt to take the lead for the third time during the encounter.
2' Kercem's Nathaniel Mercieca had a shot from a good position that was deflected to a corner by the defence.
4' Xewkija's goalie Emmanuel Cirrincione was called to make a good intervention to save a low shot by Wesley Simeao Dos Santos.
12' (3-2) Kercem took the lead again when Wesley Simeao Dos Santos persisted with a personal action on the left flank, entered the area and placed in goal with a shot that was out of the reach of the goalkeeper.
105' Xewkija's goalie was well placed and neutralised a strike by Kercem's Sebastien Martinez Turizo.
Second Half
Xewkija's reaction was sterile and they did not manage to stage a comeback in the last part of the extra time.
1' Xewkija created a potential scoring opportunity through a header by Haruna Shodija Shola following a cross by Matthias Mercieca but the ball ended wide.
2' Kercem replied with an attempt by Sebastien Martinez Turizo, after receiving from Nathaniel Mercieca, that missed the target.
8' (4-2) Kercem increased their lead when Sebastien Martinez Turizo passed to Euller Da Silva Rodrigues and the latter fired in goal with a fine shot from the edge of the area.
10' Xewkija's goalie Emmanuel Cirrincione made a good save to deny Sebastien Martinez Turizo from adding another goal.
11' The Tigers produced a good action through an initiative by Haruna Shodija Shola but Kercem's central defender Luis Henrique Santana Motta protected the danger area and blocked the attempt to a corner.
11' (4-3) From the resultant corner kick taken by Emiliano Lattes, Xewkija reduced the deficit through a header by Haruna Shodija Shola.
12' (5-3) Kercem however sealed the qualification by scoring the fifth goal when Euller Da Silva Rodrigues passed to Sebastien Martinez Turizo and the latter concluded easily in goal when he was face to face with the goalkeeper.
FT a.e.t. (KA 5 – XT 3)
Referee: Alex Johnson