13 November 2021
BOV GFA Cup (Prel. Rd) Kercem Arkafort Stadium
SK Victoria Wanderers : 6
Gharb Rangers FC : 2
7' (1-0) Emerson Zammit
40' (2-0) Fabricio Rozkiewicz
41' (3-0) Sam Harland
52' (4-0) Gabriel Cardona
55' (5-0) Sam Harland
74' (6-0) Fabricio Rozkiewicz
79' (6-1) Dylan Paul Rapa
84' (6-2) Dylan Paul Rapa
SK Victoria W:
P. Clark, A. Refalo, A. Agyeman, O. Fenech, F. Rozkiewicz, N. Camilleri, E. Zammit (K. Grima), O. Curmi, S. Harland (A. Adesina), N. Grech, G. Cardona (D. Kuru).
Gharb R:
Ow. Xuereb, O. Saliba, A. Borg, P. Djorovic, S. Farrugia, G. Debrincat, N. Attard, C. Dingli, M. Ciangura (D.P. Rapa), R. Apestegui Duran, J. Attard (S. Azzopardi).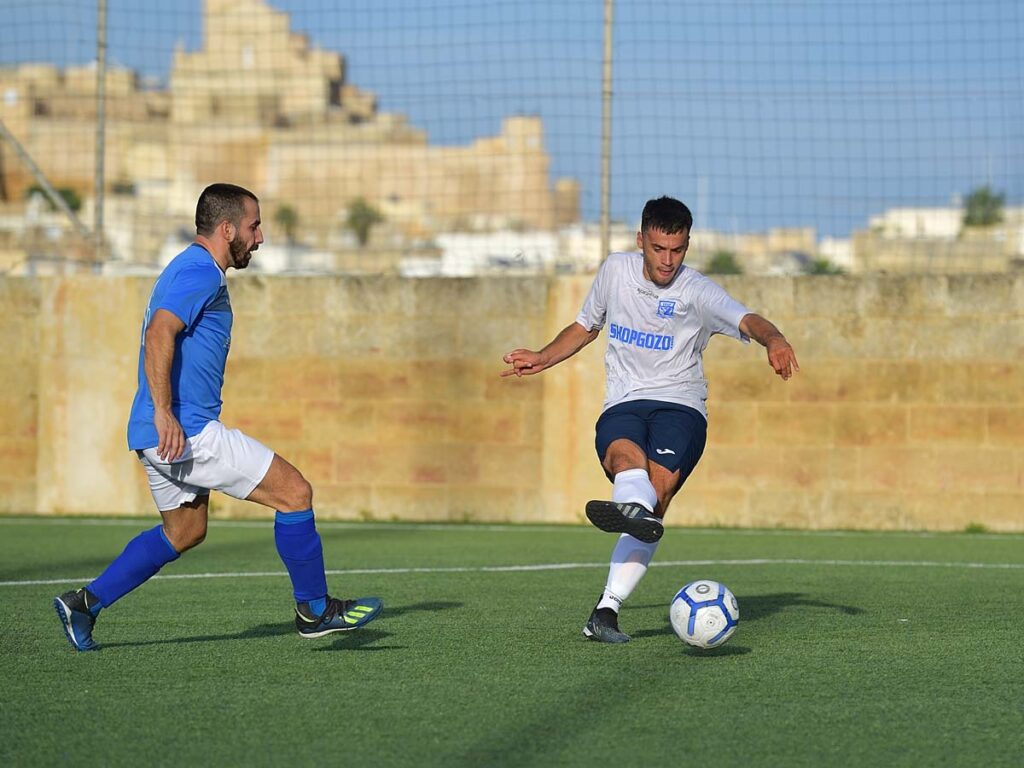 SK Victoria Wanderers took the last available place in the quarter finals of the second most important competition in Gozitan football with an impressive 6-2 win over second division side Gharb Rangers. For this match the Wanderers were once again without their foreign players goalie Giacomo Ratto and striker Aud-Gustine James Obaje due to injury, but they still managed to dominate over Gharb despite the fact that the latter were coming from a positive performance in a match from the MFA Amateur Cup against St Venera Lightnings where they conceded a defeat after extra time.
Victoria's win matured with three goals scored in each half but during the final stages they lost composure and conceded Gharb's reaction where they scored on two occasions.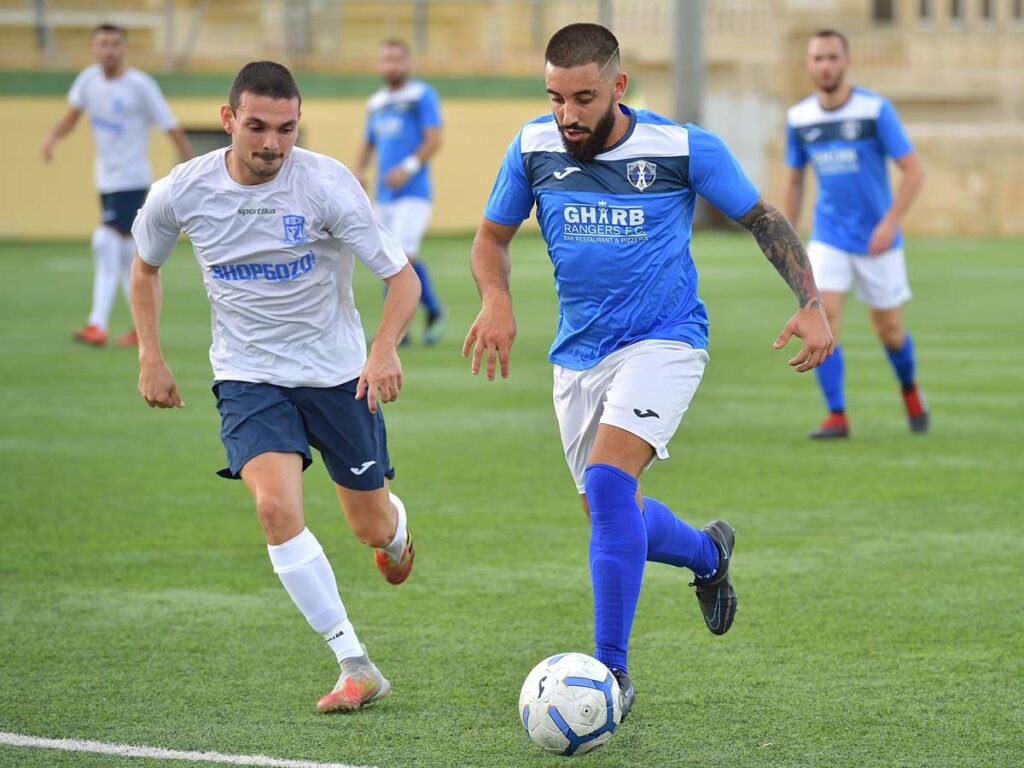 Timeline:
SK Victoria Wanderers were very aggressive from the beginning of the encounter so that their opponents found it extremely difficult to get out of their defensive area.
3' The Wanderers could have created more danger but Gabriel Cardona failed to convert from close distance following an inviting cross by Sam Harland and the defence cleared the danger.
7' (1-0) Victoria opened the score when Gharb's rear guard was surprised following a cross by Fabricio Rozkiewicz and Emerson Zammit arrived from behind the defence and placed in goal from close distance.
16' The Wanderers could have capitalised better when Emerson Zammit received the ball at an unmarked position but he hit badly and the attempt missed the target.
19' The same Emerson Zammit had another attempt directly from a free kick that ended away from goal.
27' In another action by the Citizens a strike from outside the area by Sam Harland ended high.
33' Gharb's first attempt towards Victoria's goal arrived through an attempt by Joseph Attard that was neutralised by goalie Presley Clark.
40' (2-0) The Wanderers doubled the score through Fabricio Rozkiewicz who surprised the defence and the goalkeeper from close distance following an inviting cross by Adam Refalo.
41' (3-0) Victoria added another goal when Fabricio Rozkiewicz released Sam Harland who netted with a low drive.
42' The same Sam Harland could have increased the lead but his shot from close distance was blocked by Gharb's keeper Owen Xuereb.
45' On the stroke of half time Victoria's Gabriel Cardona had a header following a cross by Fabricio Rodzkiewicz that ended over the crossbar.
HT (3-0)
Second Half
After the break the Wanderers continued to produce pressure on Gharb's defence and scored more goals to make sure of the qualification.
6' Victoria's Owen Fenech had a good shot following a corner action that was blocked by the defence and from the resultant melee Gharb managed to clear the danger from the area.
7' (4-0) The Wanderers scored another goal that arrived through Gabriel Cardona who was released within Gharb's territory by Adam Refalo and the striker placed out of the reach of the goalkeeper with a fine shot.
10' (5-0) Victoria added another goal when Fabricio Rozkiewicz unmarked Sam Harland who netted from close distance.
16' In another dangerous action by the Citizens, Emerson Zammit entered Gharb's area with a personal action but his low shot was well saved by goalie Owen Xuereb.
25' Gharb could have scored a consolation goal but Predrag Djorovic failed to convert the ball from close distance following a free kick by Marco Ciangura.
28' Victoria's substitute Ajibade Adesina went close to increase the lead but his shot from a good position ended just high.
29' (6-0) The sixth goal for the Wanderers was scored by Fabricio Rozkiewicz who took the ball from the defence and conclude easily in goal.
The Wanderers lost motivation during the final stages and allowed their opponents to approach their area so that they ended up conceding two goals.
34' (6-1) Gharb scored their first goal when Rodrigo Apestegui Duran released substitute Dylan Paul Rapa who concluded in goal from a closed angle.
37' The Wanderers could have re-established a six-goal lead but a close ranged header by substitute Kersten Grima was blocked by Gharb's keeper Owen Xuereb.
39' (6-2) Gharb managed to reduce to score when Victoria's defence failed to clear the ball from the goalmouth following a corner kick by substitute Stefan Azzopardi and Dylan Paul Rapa took the ball from the resultant melee and netted with a low shot.
42' Victoria lost another opportunity to score another goal when Fabricio Rozkiewicz unmarked Ajibade Adesina inside Gharb's area but the latter saw his low drive, with the goalkeeper out of his position, that ended just wide.
FT (SKVW 6 – GR 2)
Referee: Philip Farrugia