11 December 2021
GFA BOV Gozo Football League Division II (MD 5) Kercem Arkafort Stadium
Xaghra United FC : 2
Munxar Falcons FC : 4
5' (1-0) Matthias Cordina
15' 91-1) Ayesller Carvalho
38' (1-2) Mario Azzopardi
40' (1-3) penalty Ayesller Carvalho
53' (1-4) Michael Tabone
88' (2-4) o.g. Mario Farrugia
89' (red card) Mario Farrugia (MF)
Xaghra U:
A. Debono, J. Bajada, S. Galea, L. Sultana, S.T. Blair, M. Cordina, S. Sultana, S. Bonello, F. Cauchi, E. Galea (L. Attard), T. Agius.
Munxar F:
D. Galea, P. Parnis (A. Sacco), A. Buttigieg, P. Rapa, M. Azzopardi, L. Meilak, M. Tabone (J. Vella),  N. Haber, J. Grima (K. Mizzi), A. Carvalho, M. Farrugia.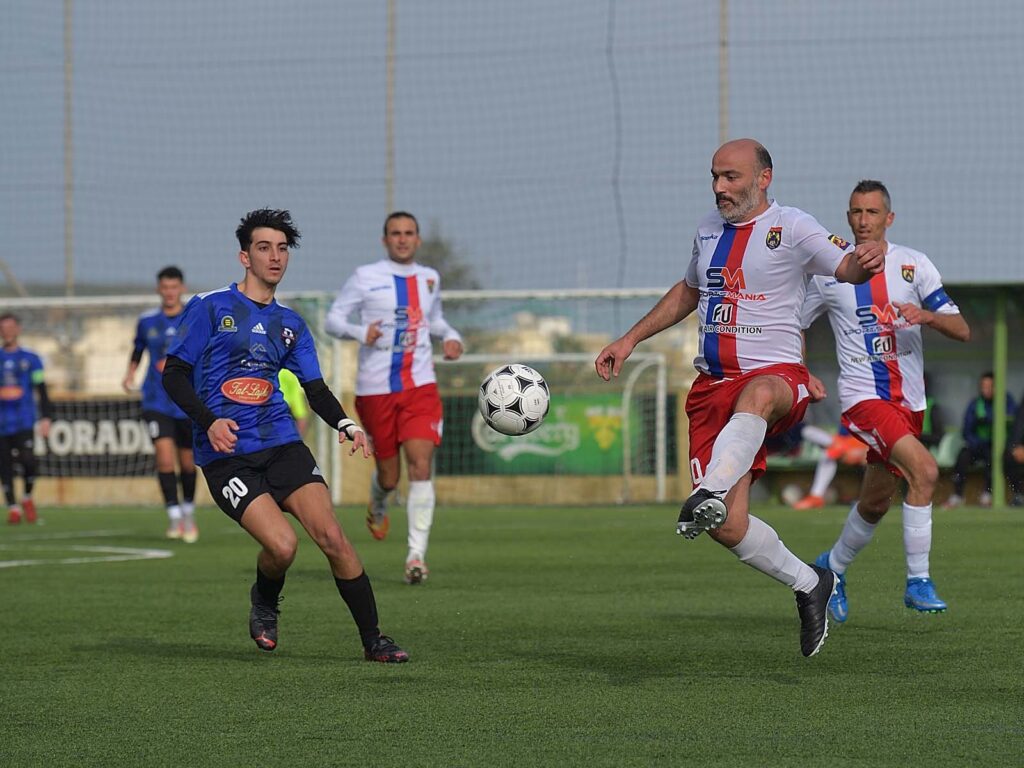 Munxar Falcons obtained three important points from a 4-2 win over Xaghra United in the last match of the first round for the two sides. With the points obtained Munxar retained their chances to challenge for promotion as they are now at the second place on the table on equal points with Zebbug Rovers, and just three points behind the leaders Qala Saints.
In this match Munxar recovered from an early shock.  They showed great determination to turn the result in their favour and also took the break with a comfortable two-goal lead.  Munxar administered play after the break and they put their minds at rest from the win by scoring the fourth goal.  Xaghra were expected to produce a stronger challenge as they are trying to move closer to the top position.  However, they failed to capitalise from the encouraging start and ended up demoralised as their efforts to recover the result were to no avail.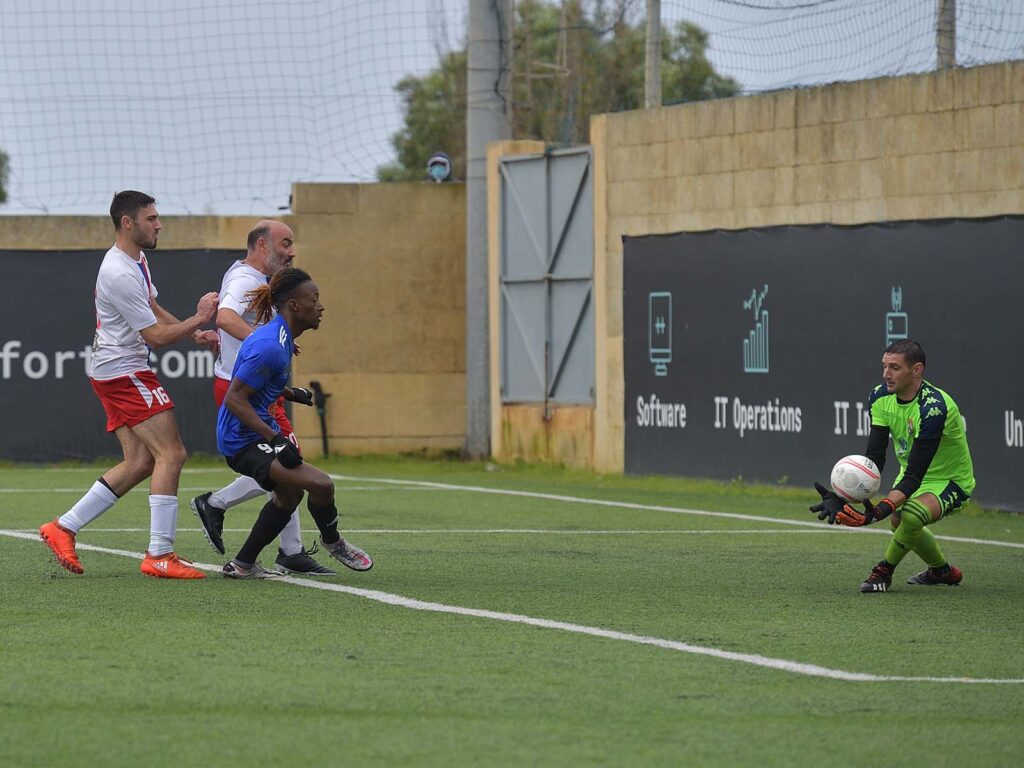 Timeline
Xaghra came out in a better shape than Munxar, but the Falcons had an immediate reaction after conceding Xaghra's goal and as time passed by they took command of play.
5' (1-0) Xaghra opened the score through a strike from outside the area by Matthias Cordina with the ball hitting a defender before ending in the net.
10' (goal disallowed) Xaghra could have doubled their lad but a goal by Luke Sultana was disallowed for an offside infringement.
11' Munxar replied with a shot from outside the area by Luke Meilak that was saved with difficulty by goalie Aiden Debono.
15' (1-1) Munxar levelled the score when a shot by Ayesller Carvalho surprised Xaghra's keeper and ended in goal.
17' The Falcons could have scored another goal but a shot by Joseph Grima was deflected by the defence onto the post and the ball ended in a corner. From the same corner action another attempt by the same Grima was stopped by the post.
19' Munxar's goalie Daniel Galea left his position in time to clear the ball before Shemar Tristan Blair could conclude when he was alone in the area.
35' The same goalkeeper was called to make two consecutive saves following attempts by Tisten Agius and Shemar Tristan Blair.
36' Xaghra's keeper Aiden Debono was well placed to save a free kick from long distance by Luke Meilak.
38' (1-2) Munxar turned the score in their favour when Xaghra defence cleared badly a corner kick by Michael Tabone and from the resultant melee Mario Azzopardi concluded i goal with a low shot.
40' (1-3) penalty The Falcons were awarded a penalty for a foul by Xaghra's Silvan Bonello on Ayesller Carvalho and the same Brazilian striker converted from the spot kick to increase the lead for his side.
45' Xaghra could have reduced the gap when Shemar Tristan Blair entered Munxar's territory with a personal action but concluded incredibly wide from an ideal position.
HT (1-3)
Second Half
Munxar continued to express more confidence in their play while Xaghra struggled to neutralise Munxar's offensive actions.
8' (1-4) Munxar added their lead with a goal scored by Michael Tabone who placed in goal with a low shot following a personal action despite the attempt of the goalkeeper to save the danger.
27' Xaghra replied through a header by Silvan Debono from a free kick by Matthias Cordina that ended just wide.
37' In another action by Munxar, a shot by Ayesller Carvalho was saved by goalie Aiden Debono.
37' The same Xaghra keeper was again at the right place to neutralise an effort by Paul Rapa.
43' (2-4) Xaghra scored their second goal that arrived through an own goal committed by Munxar's central defender Mario Farrugia who hit badly in an attempt by clear a cross by substitute Luke Attard and ended up surprising his keeper Daniel Galea.
44' (red card) Munxar were reduced to ten players when the same Mario Farrugia was sent off for committing a second bookable offence.
FT (XU 2 – MF 4)
Referee: Patrick Falzon