11 December 2021
GFA BOV Gozo Football League Division II (MD 5) Kercem Arkafort Stadium
Qala Saints FC : 3
Zebbug Rovers FC: 2
1' (0-1) Mattias Camilleri Psaila
3' (0-2) Daniel Mesa Pineros
7' (1-2) Ebube Ralph Okpokwu
9' (2-2) Brandon Said
42' (red card) Manwel Xerri (QS)
54' (3-2) Ebube Ralph Okpokwu
Qala S:
M. Muscat, Jsph. Buttigieg, Jsf. Buttigieg, S. Farrugia, C. Farrugia (M. Buttigieg), E. Buttigieg, P. Muscat, B. Said, F. Mumford, E. R. Okpowku, M. Xerri.
Zebbug R:
Om. Xuereb, I. Buttigieg, E. Bugeja (J. Azzopardi), C. Gauci, D. Mesa Pineros, E. Gauci (J. Bonnici), M. Camilleri Psaila (O. Atzori), M. Camilleri (C. Farrugia), N.J. Cini, R. Saliba, P. Spiteri.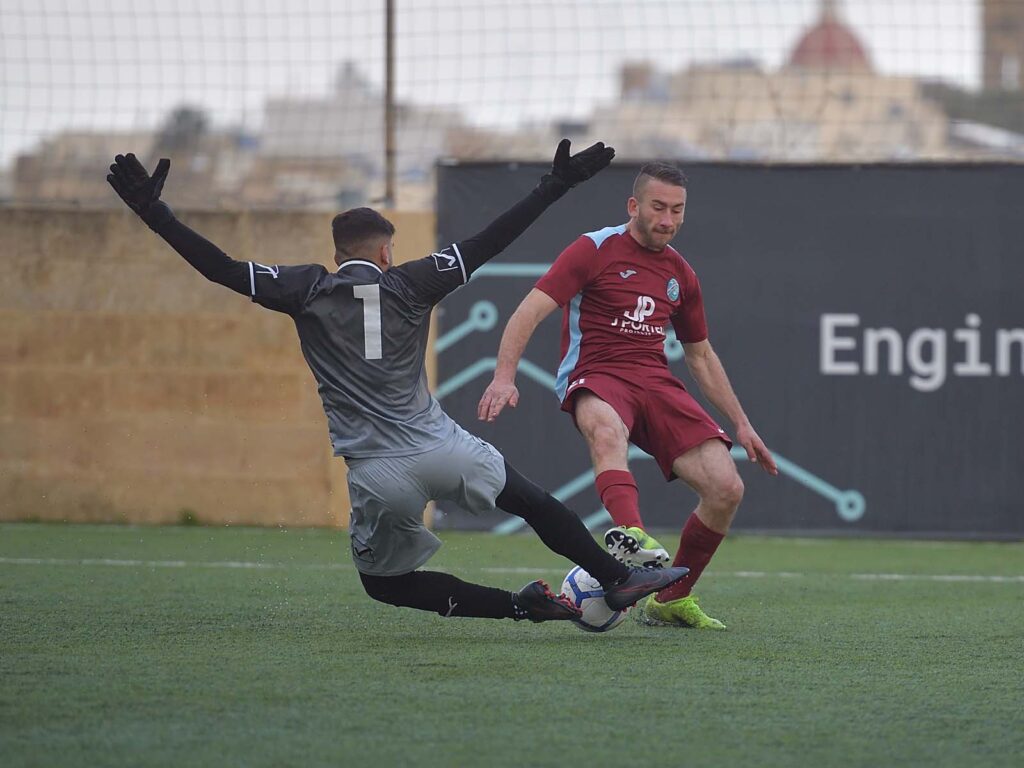 Qala Saints lived up to the expectations and obtained the full points at stake from the direct clash for the leadership by turning a defeat into a 3-2 win over Zebbug Rovers. With this result Qala ended the first round with a three point lead and completed an impressive comeback when considering that in the second match of the campaign they dropped two points when they were held to a draw by St Lawrence Spurs. Qala therefore confirmed their status as hot favourites to win the main honour of the category this season.
The match between Qala and Zebbug was the man match of the weekend as the two sides were playing their respective last match o the first round on equal points.  The opening minutes of this encounter characterised the rest of the match as the two sides practically conceded two easy goals to the opponents.  The Rovers scored their two goals in the opening three minutes but Qala capitalised from mistakes by Zebbug in the following six minutes and levelled the score.  As time passed by Qala imposed territorial supremacy and created the best scoring opportunities despite the fact that they were reduced to ten players, minutes from the end of the first half.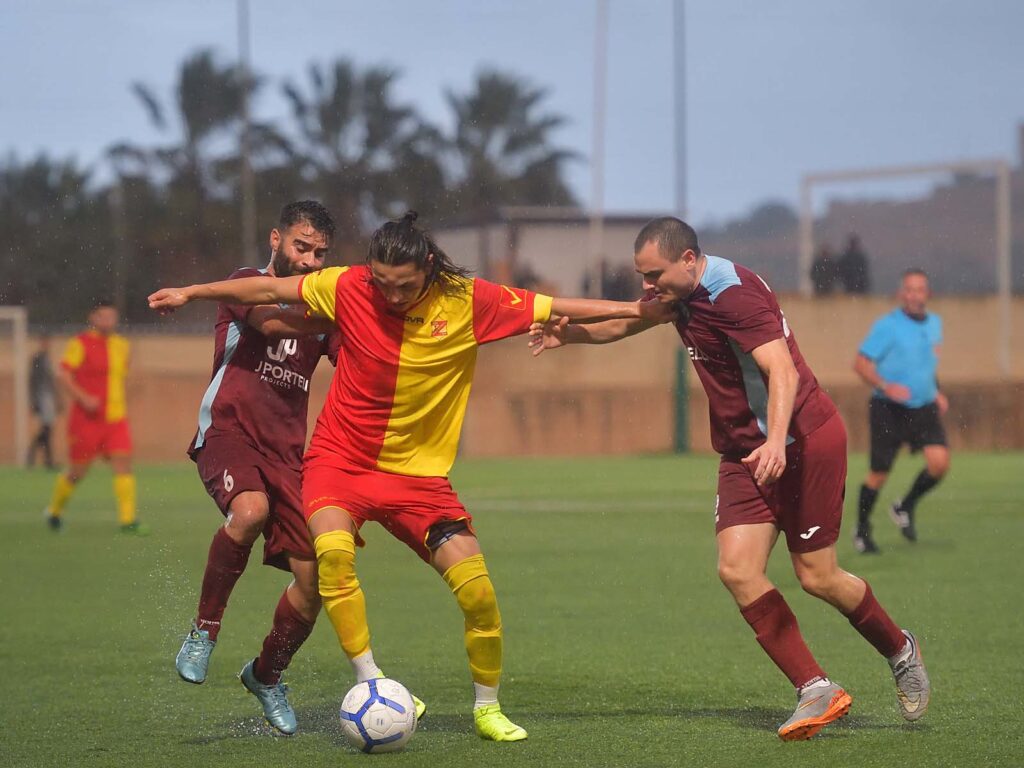 Timeline
Zebbug had an impressive start but they became overconfident and gave away a two-goal lead by committing mistakes at their defence so that they continued to concede Qala's play for the rest of the encounter.
20 sec. (0-1) Zebbug opened the score when Qala's goalie failed to hold a low shot by Daniel Mesa Pineros and Mattias Camilleri Psaila took advantage and concluded in goal from close distance.
2' Qala replied through a good move by Brandon Said on the right flank but from his low inviting cross, Ebube Ralph Okpokwu failed to connect and missed the opportunity to push the ball into an open goal.
3' (0-2) Zebbug once again surprised their opponents when Daniel Mesa Pineros took the ball from the defence and fired in goal with a strike from the edge of the area.
7' (1-2) Qala re-opened the issue when Brandon Said unmarked Ebube Ralph Okpokwu inside the area and the latter placed in goal with a low shot from a closed angle.
9' (2-2) Qala recovered the deficit as they took full advantage of a mishap by Zebbug's defence so that Brandon Said made pressure on the goalkeeper, took the ball and placed easily onto an open goal.
11' The Maroons were again dangerous through a free kick by Charlon Farrugia that was turned to a corner by goalie Omar Xuereb
13' The same goalie was well placed to neutralise a low shot by Emmanuel Buttigieg from outside the area.
25' Zebbug's Eman Bugeja had an attempt directly from a free kick that just missed the target.
30' The Rovers went again close to scoring but an attempt by Manuel Camilleri from a free kick by Eman Bugeja was cleared off from the goalmouth by Joseph Buttigieg.
41' Zebbug's keeper Omar Xuereb had good timing when he left his position to block the ball before Brandon Said could conclude from a good position.
42' (red card) Qala were reduced to ten players when Manwel Xerri was sent off for a second bookable offence.
HT (2-2)
Second Half
Zebbug did not manage to take advantage of the extra player on the field while Qala came out for the second period with the intention to take control of the midfield despite the fact that they were playing with ten players.
5' Qala's keeper Matthew Muscat was called to make a good save to neutralise a header by Daniel Mesa Pineros following a free kick form long distance.
9' (3-2) Qala turned the result in their favour through a fine header by Ebube Ralph Okpokwu following a cross from the right by Peter Muscat.
11' The Maroons could have added another goal when Ebube Ralph Okpokwu released Brandon Said but he latter had his ow shot that was well blocked by goalie Omar Xuereb.
19' Zebbug's goalie Omar Xuereb was again called into action to save an effort by Qala's Peter Muscat.
As time passed by Qala controlled play as Zebbug's reaction was sterile and Qala's goalie was not called to make any difficult interventions.
45' Qala could have sealed the win with another goal when Brandon Said entered Zebbug's territory with a counter break, turned around the goalkeeper but his low drive aimed towards an open goal was cleared off the line to a corner by Zebbug's substitute Joston Azzopardi.
FT (QS 3 – ZR 2)
Referee: Jason Portelli
| | | | | | | | |
| --- | --- | --- | --- | --- | --- | --- | --- |
| DIVISION II | | | | | | | |
| Standings | | | | | | | |
| 11/12/2021 | P | W | D | L | F | A | PTS |
| QALA S | 5 | 4 | 1 | 0 | 9 | 4 | 13 |
| ZEBBUG R | 5 | 3 | 1 | 1 | 11 | 4 | 10 |
| MUNXAR F | 5 | 3 | 1 | 1 | 10 | 4 | 10 |
| ST LAWRENCE S | 4 | 1 | 1 | 2 | 6 | 10 | 4 |
| XAGHRA U | 5 | 1 | 0 | 4 | 8 | 9 | 3 |
| GHARB R | 4 | 0 | 0 | 4 | 1 | 14 | 0 |