12 December 2021
GFA BOV Gozo Football League Division II (MD 5) Kercem Arkafort Stadium
St Lawrence Spurs FC: 2
Gharb Rangers FC: 2
15' (0-1) Christian Dingli
28' (1-1) Christopher Cauchi
34' (1-2) Gabriel Debrincat
48' (2-2) Luke Cilia
90' (red card) Joseph Buhagiar (SLS)
St. Lawrence S:
C. Mercieca, A. Ademilua, L. Attard, G. Portelli, C. Cauchi, W. Hili (L. Cilia), L. Dimech (J.M. Portelli), C. Azzopardi (J. Xuereb), D. Micallef, C. Mercieca (C. Grima), J. Buhagiar.
Gharb R:
O. Xuereb, A. Borg, C. Cutajar, G. Debrincat, N. Attard, C. Dingli, M. Ciangura, D.  R. Apestegui, J. Cefai Farrugia, S. Azzopardi, P. P. Buttigieg (S. Farrugia).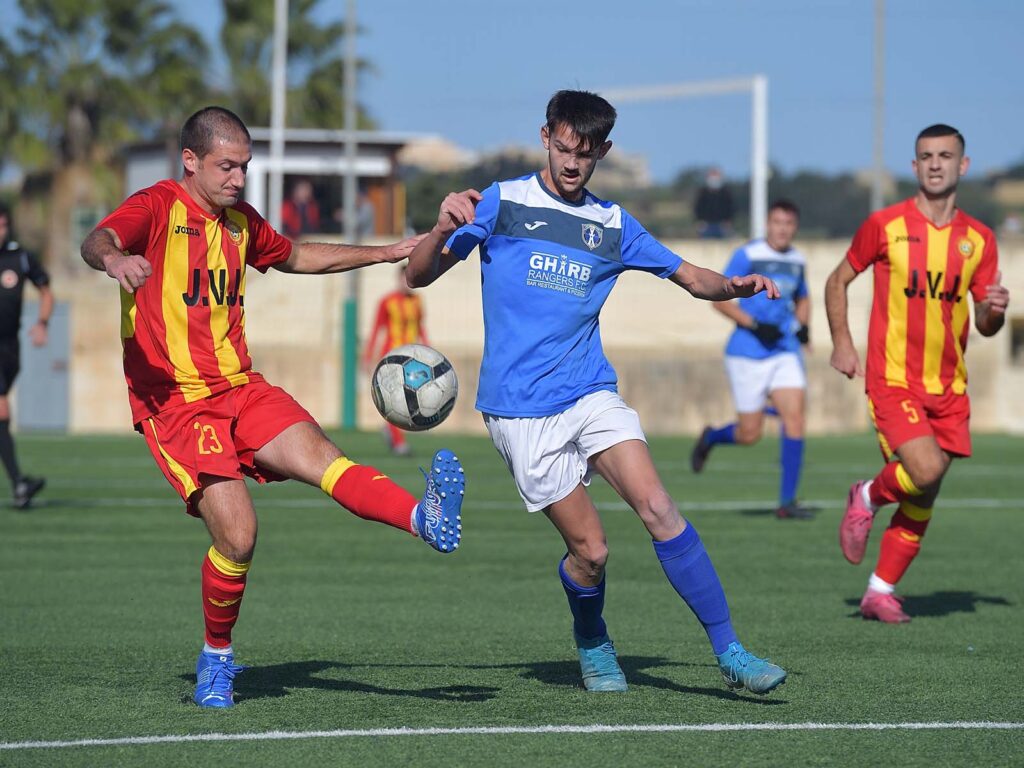 St Lawrence Spurs and Gharb Rangers earned a point each from a draw of four goal in the last match of the first round of the BOV Gozo football League of the second division. With this result Gharb obtained their first point in the campaign while the Spurs missed an opportunity to reduce their gap from the top positions.
However, this was St Lawrence's third positive result from the first five league matches which should be an encouraging achievement for the rest of the campaign.  The match, which is also a derby between two neighbours, turned out into a well contested issue and the outcome remained uncertain. Gharb produced their best play during the first period but St Lawrence held more territorial supremacy after the break and the final score could be considered just.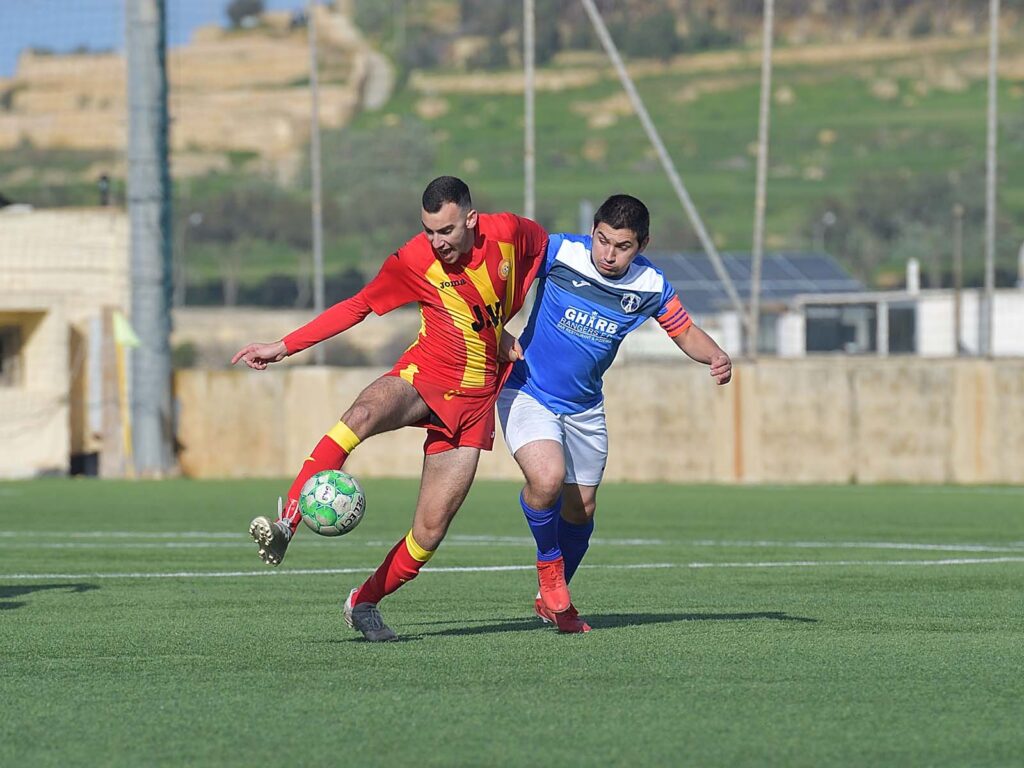 Timeline:
Gharb came out determined to take command of play and for most of the first half they were more offensive and created more scoring opportunities than their opponents.
8' Gharb created the first scoring opportunity but a shot form an ideal position by Carlos Cutajar ended high.
15' (0-1) The Rangers opened the score through a direct corner kick by Christian Dingli that surprised St. Lawrence's defence and the goalkeeper.
22' Gharb were again dangerous through a free kick from long distance by Nicholas Attard that was partially saved by goalie Courtney Mercieca and from the rebound Christian Dingli failed to conclude in goal from close distance.
24' In another prolonged action inside St Lawrence's area an effort by Marco Ciangura was stopped by the post with the goalkeeper beaten.
28' (1-1) Gharb were punished for the missed chances and St Lawrence recovered the deficit through a long ranged shot by Christopher Cauchi.
32' Gharb were again dangerous but an effort by Duran Rodrigo Apestegui was saved to a corner by St Lawrence's keeper Courtney Mercieca.
34' (1-2) Gharb regained the lead when St Lawrence's keeper failed to hold the ball from a free kick by Joseph Cefai Farrugia and Gabriel Debrincat placed easily into an open goal.
39' The Spurs replied though a shot from an angled position by Adebayo Ademilua that e ended just wide.
42' St Lawrence's keeper Courtney Mercieca made a difficult save to turn to a corner a shot by Christian Dingli.
43' In an immediate reply Gharb's keeper Owen Xuereb was well placed an neutralise a shot from outside the area by Luke Attard.
HT (1-2)
Second Half
St Lawrence increased their efforts after the break and for some tome they held command of play.
3' (2-2) St Lawrence scored the second equaliser through an excellent strike from outside the area by substitute Luke Cilia that surprised Gharb's keeper Owen Xuereb.
11' Gharb's goalie Owen Xuereb was called to make a difficult save to turn to a corner a free kick from long distance by Adebayo Ademilua.
16' St Lawrence's Christopher Cauchi went very close to put his side in the lead but his header from a corner kick by Luke Attard ended just wide.
33' Gharb's Joseph Cefai Farrugia had an attempt directly from a free-kick that was saved without difficulty by St Lawrence's goalie Courtney Mercieca.
45' (red card) St Lawrence ended the match with ten players as they had Joseph Buhagiar who was sent off for a second bookable offence.
FT (SLS 2 – GR 2)
Referee: Mehmet Oral
| | | | | | | | |
| --- | --- | --- | --- | --- | --- | --- | --- |
| DIVISION II | | | | | | | |
| Standings | | | | | | | |
| 12/12/2021 | P | W | D | L | F | A | PTS |
| QALA S | 5 | 4 | 1 | 0 | 9 | 4 | 13 |
| ZEBBUG R | 5 | 3 | 1 | 1 | 11 | 4 | 10 |
| MUNXAR F | 5 | 3 | 1 | 1 | 10 | 4 | 10 |
| ST LAWRENCE S | 5 | 1 | 2 | 2 | 8 | 12 | 5 |
| XAGHRA U | 5 | 1 | 0 | 4 | 8 | 9 | 3 |
| GHARB R | 5 | 0 | 1 | 4 | 3 | 16 | 1 |