5 December 2021
GFA BOV Gozo Football League Division II (MD 4) Kercem Arkafort Stadium
Gharb Rangers FC : 0
Qala Saints FC : 2
45' (0-1) Michael Zerafa
90+1' (0-2) Brandon Said
Gharb R:
O. Xuereb, A. Borg, G. Debrincat, N. Attard, C. Dingli, S. Farrugia, D. R. Apestegui, J. Cefai Farrugia, S. Azzopardi, P. P. Buttigieg, J. Attard (D. P. Rapa)
Qala S:
M. Muscat, S. Sillato, J. Buttigieg, M. Zerafa (R. Meilak), S. Muscat (Josef Buttigieg), S. Farrugia (M. Buttigieg), C. Farrugia (P. Muscat), E. Buttigieg, B. Said,E. R. Okpowku, M. Xerri.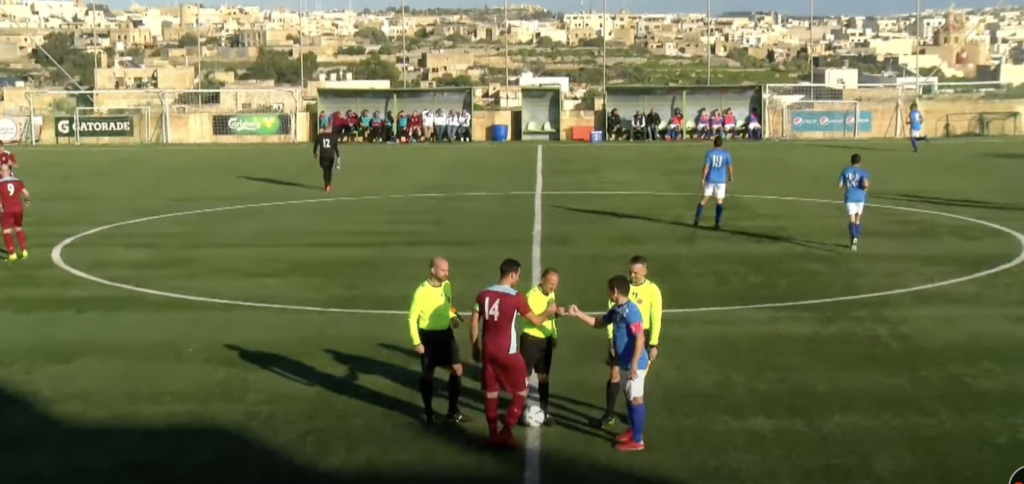 Qala Saints took immediate advantage of the draw registered by Zebbug Rovers and earned three points from a 2-0 win over bottom placed Gharb Rangers. With this result the maroons reached Zebbug at the top of the table and will seek to take full command of the campaign as they will be facing the same Rovers in the next league match.
The match between Qala and Gharb disappointed as the two sides produced very few dangerous actions on the respective goal. Qala arrived with the least possible effort and matured with goals scored near the end of each half. This was also Gharb's fourth consecutive defeat form as many matches so that they remain at the bottom place on the table without a point.
Timeline:
Qala came out with the intention to clinch the win and were aggressive in their play but they failed to be effective and found it difficult to conclude towards Gharb's goal.
24' Qala created the first dangerous scoring opportunity but a header by Ebube Ralph Okpokwu was well saved by goalie Owen Xuereb.
26' Gharb's goalie was well placed and saved with some difficulty a low shot by Joseph Buittigieg and the defence continued t clear the danger.
43' A shot by Qala's Charlon Farrugia following a prolonged action ended wide.
45' (0-1) The Maroons opened the score when a strike by Michael Zerafa defeated goalie Owen Xuereb who was also obstructed with the presence of Qala's Ebube Ralph Okpokwu and the ball ended in goal despite the effort by Peter Buttigieg to clear the ball from the fatal line.
HT (0-1)
Second Half
During the second period Qala continued to be the better side although Gharb tried to produce a reaction in a attempt to recover the deficit.
20' Gharb went very close to level the score when Rodrigo Apestegui Duran released Gabriel Debrincat who entered the area, turned around Qala's keeper Matthew Muscat and addressed towards an open goal but central defender Gabriel Sillato recovered in time and cleared the ball from the goalmouth to avoid a certain goal.
35' Qala were dangerous through a shot by Joseph Buttigieg that ended just wide.
45+1' (2-0) Qala made sure of the win by scoring the second goal that arrived through a volley by Brandon Said that surprised Gharb's goalie.
FT (GR 0 – QS 2)
Referee: Raymond Tabone
| | | | | | | | |
| --- | --- | --- | --- | --- | --- | --- | --- |
| DIVISION II | | | | | | | |
| Standings | | | | | | | |
| 05/12/2021 | P | W | D | L | F | A | PTS |
| ZEBBUG R | 4 | 3 | 1 | 0 | 9 | 1 | 10 |
| QALA S | 4 | 3 | 1 | 0 | 6 | 2 | 10 |
| MUNXAR F | 4 | 2 | 1 | 1 | 6 | 2 | 7 |
| ST LAWRENCE S | 4 | 1 | 1 | 2 | 6 | 10 | 4 |
| XAGHRA U | 4 | 1 | 0 | 3 | 6 | 5 | 3 |
| GHARB R | 4 | 0 | 0 | 4 | 1 | 14 | 0 |