18 December 2021
GFA BOV Gozo Football League Division I (MD 9) Gozo Stadium
Nadur Youngsters : 4
Victoria Hotspurs FC : 2
9' (red card) Gianluca Muscat (NY)
16' (0-1) Henique De Souza Maciel
22' (1-1) Judivan Flor Da Silva
23' (2-1) Marcelo Barbosa
26' (2-2) Olimpio Gabriel Fernandes
75' (3-2) Joseph Zammit
88' (red card) Oliver Cremona (VH)
90+2' (4-2) Judivan Flor Da Silva
Nadur Youngsters:
S. Sultana, L. Moreira, J.M. Vella (G. Farrugia), I. Xuereb, J. Zammit (M. Tabone), M. Barbosa (J. Parnis), S. Cassar, E. Bruno Domingos, G. Hili, G. Muscat, J. Flor Da Silva.
Victoria H:
D. Spiteri, E. Serrano Valero, C. Vella, D. Hili (A. Debrincat), J. Pace (S. Bajada), H. De Souza Maciel, O.G. Fernandes, J. Tabone, E. Xiberras, O. Cremona, R.Blandon Rendon.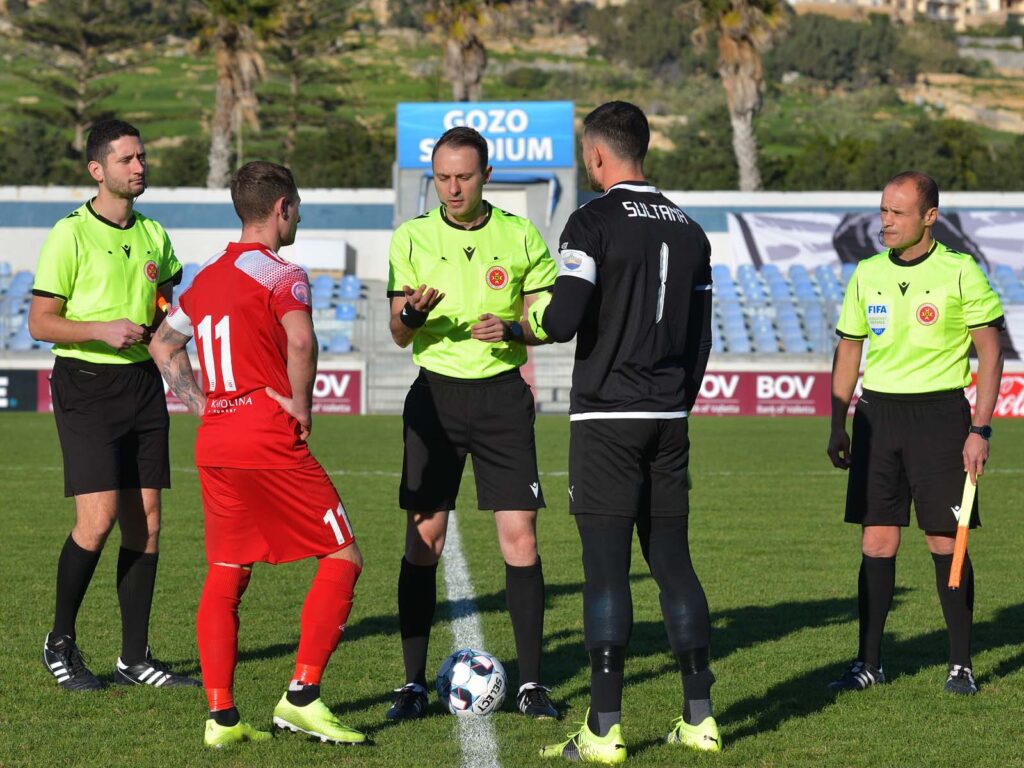 Nadur Youngsters registered a 4-2 win over Victoria Hotspurs in their last match from Match-Day 9 of the championship so that they remain the only unbeaten side in the top flight and confirmed their status as hot favourites to win the title at the end of this season.
This match was considered as an import test for Nadur as Victoria Hotspurs were motivated to be challengers to the current leaders in an attempt to move to a more respectable place on the table. The Hotspurs also had Brazilian striker Henrique De Souza Maciel back in their squad as the player was for some months away from Malta.
The match lived up to the expectations during the first half as the Hotspurs seemed in a position to obtain a positive result from this match.  At the same time during the opening stages Nadur suffered Victoria's play and were also reduced to ten players after nine minutes of play. The Hotspurs however failed to maintain the edge over their opponents and did not take advantage of the extra player so that Nadur recovered from the difficult start and as time passed by they dominated play.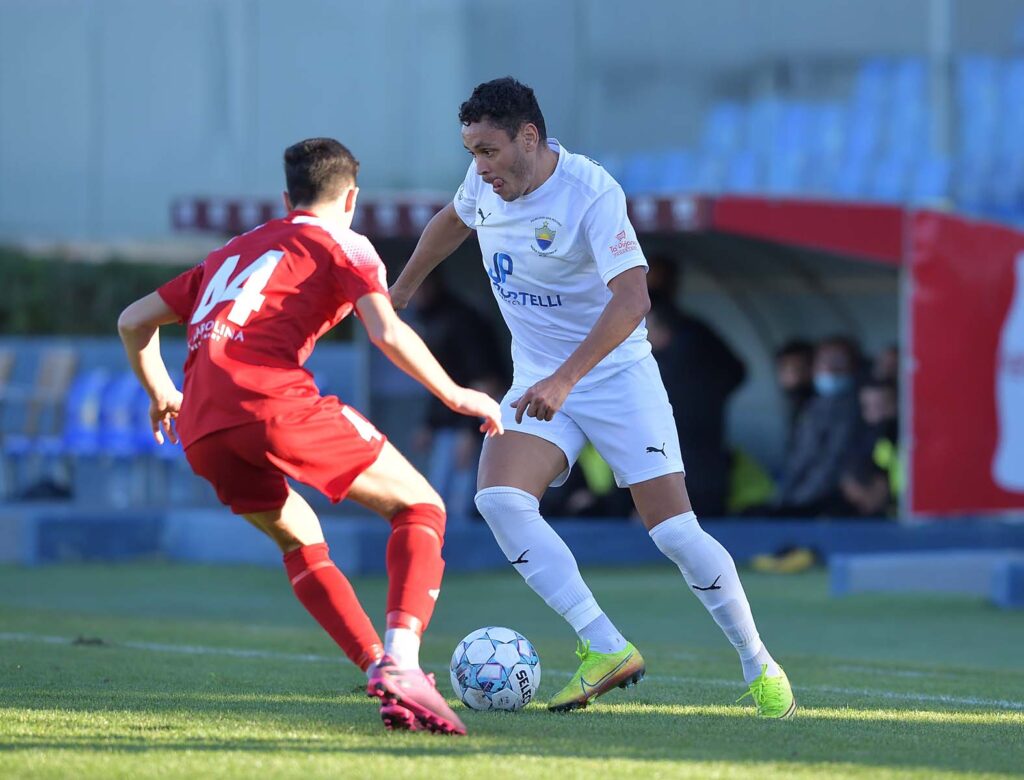 Timeline:
The Hotspurs came out more aggressive and they seemed more offensive in their play but Nadur managed to recover from a difficult period and shared play with their opponents despite playing most of the time with a player lesson the field.
2' Nadur's keeper Steve Sultana was well placed and neutralised a shot from outside the area by Ettiene Xiberras following a clearance by the defence from a corner kick by Henrique Maciel.
7' The Hotspurs were again dangerous through a low shot aimed to the far post by Robinson Blandon Rendon ended wide.
8' Nadur replied with an action inside Victoria's area and the ball arrived to Judivan Flor Da Silva but defender Oliver Cremona recovered in time and denied the striker from concluding from close distance.
9' (red card) Nadur were reduced to ten players when they had Gianluca Muscat who was sent off for stopping Robinson Blandon Rendon form entering alone inside Nadur's area. From the resultant free kick the attempt by Henrique Maciel was deflected by the wall and ended in a corner.
14' A header by Victoria's Elikin Serrano Valero from a corner kick by Henrique Maciel ended high.
16' Ederson Bruno Domingos arrived alone inside Victoria's area but his first attempt was partially saved by goalie Daniel Spiteri. The same Bruno Domigos took the rebound but his second attempt from an angled position was blocked to a corner by the goalkeeper.
16' (0-1) In the following action the Hotspurs opened the score through a personal action by Henrique De Souza Maciel who passed around Nadur's defence and placed in goal as he arrived face to face with the goalkeeper.
21' (1-1) Nadur had an immediate reaction and levelled the score when Marcelo Barbosa entered the area from the right flank and from his low cross Judivan Flotr Da Silva came from behind the defence and concluded in goal from close distance.
23' (2-1) Nadur turned the result in their favour through a personal action by Marcelo Barbosa who took the ball from the defence, entered the area and fired in goal from an ideal position.
26' (2-2) The Hotspurs were not demoralised and scored the equaliser when an attempt from a free kick by Robinson Blandon Rendon was partially saved by Nadur's keeper Steve Sultana and from the rebound Olimpio Gabriel Fernandes placed easily in goal.
37' Nadur were unlucky when a direct free kick by Marcelo Barbosa hit the post with the goalkeeper beaten.
38' Victoria's defence cleared the ball badly from the goalmouth but Ederson Bruno Domingos failed to capitalise as his shot was weak and the goalkeeper saved the danger.
43' Victoria's goalie Daniel Spiteri was again called to make an important intervention when he managed to save a strike from outside the area by Judivan Flor Da Silva.
HT (2-2)
Second Half
Play for the second period the Hotspurs were expected to take advantage of the extra player on the field but Nadur came out in a better shape and for most of the time they held supremacy.
7' (goal disallowed) Nadur went very close to regain the lead when a shot from outside the area by Ederson Bruno Domingos was partially save by goalie Daniel Spiteri and Stefan Cassar netted from the rebound but the goal was disallowed for an offside infringement.
18' Nadur once again threatened Victoria's defence but a shot by Judivan Flor Da Silva from a good position was neutralised by goalie Daniel Spiteri.
21' Nadur operated another dangerous action form the right flank through Edersn Bruno Domingos but his low inviting cross aimed towards Judivan Flor Da Silva was cleared from the goalmouth to a corner by the defence.
21' (protests for penalty) Nadur protested for a penalty when Stefan Cassar ended on the floor inside Victoria's area when he tried to release himself from his direct opponent.
27' Nadur's Stefan Cassar went again close to put his side in the lead but his low drive following a prolonged action ended just wide.
30' (3-2) Nadur took the deserve lead when Ederson Bruno Domingos delivered a low cross from the right flank and Joseph Zammit fired in goal with a fine shot from an unmarked position.
32' Nadur were again dangerous through a strike by Marcelo Babrosa that ended high.
43' (red card) The Hotspurs were reduced to ten players when Oliver Cremona was sent off for a second bookable offence when he tried to hold substitute Jordi Parnis in a counter break.
45+2' (4-2) Nadur sealed the win when Judivan Flor da Silva won the ball within Victoria's territory, entered the area, turned around the goalkeeper and placed in goal with a low shot.
FT (NY 4 – VH 2)
Referee: Slobodan Petrovic