16 September 2022
GFA BOV Gozo Football League Division I (MD 2) Gozo Stadium
Oratory Youths FC : 0
Nadur Youngsters FC : 2
71' (0-1) Joseph Zammit
74' (0-2) Marcelo Jr Barbosa
Oratory Y:

A. Brignoli, J. Tabone, J. De Souza Ferreira, K. Farrugia (P. Rapa), H.H. Goncalves Barbosa, A. Xuereb, O. Xuereb (K. Hili), N. Sutic, H. Muscat (Ju. Attard), D. Atzori (O. Curmi), S.U. Ubuwere.
Nadur Y:

L. Camilleri, L.B. Da Silva, M. Tabone, I. Xuereb, J.M. Vella, J. Zammit (M. Said), M.P. Camilleri (G. Muscat), M. Jr. Barbosa, I. Nedeljkovic, G. Hili, G. Dourado Ferreira (J. Xerri).
Nadur Youngsters found it more difficult than expected to obtain the three points from their match against Oratory Youths and had to wait until the final stages to find a way to score the two goals that decided the issue.  Nadur were the favourites to win this match despite having their regular goalkeeper missing due to a suspension and midfielder Predrag Djordevic who is still recovering from an injury, as the reigning champions were facing a side that disappointed in the first match of the championship.
Oratory however seemed determined to make up for the performance in their previous match and managed to apply an effective defensive display that made it very difficult for their more quoted opponents to express their superiority.  The Youths grew in confidence as time passed by and resisted for seventy minutes but ended up compromising the result by conceding two goals in the space of three minutes.  In this match, Nadur confirmed their strong potential with various options in their offensive manoeuvre but they seemed overconfident and ended up missing some good open-scoring opportunities.  Nadur still exposed some problems faced in their previous matches this season as the defensive department may have lost the solidity expressed last season, while the strikers are still struggling to get used to the characteristics of each other to capitalise better from the actions in front of goal.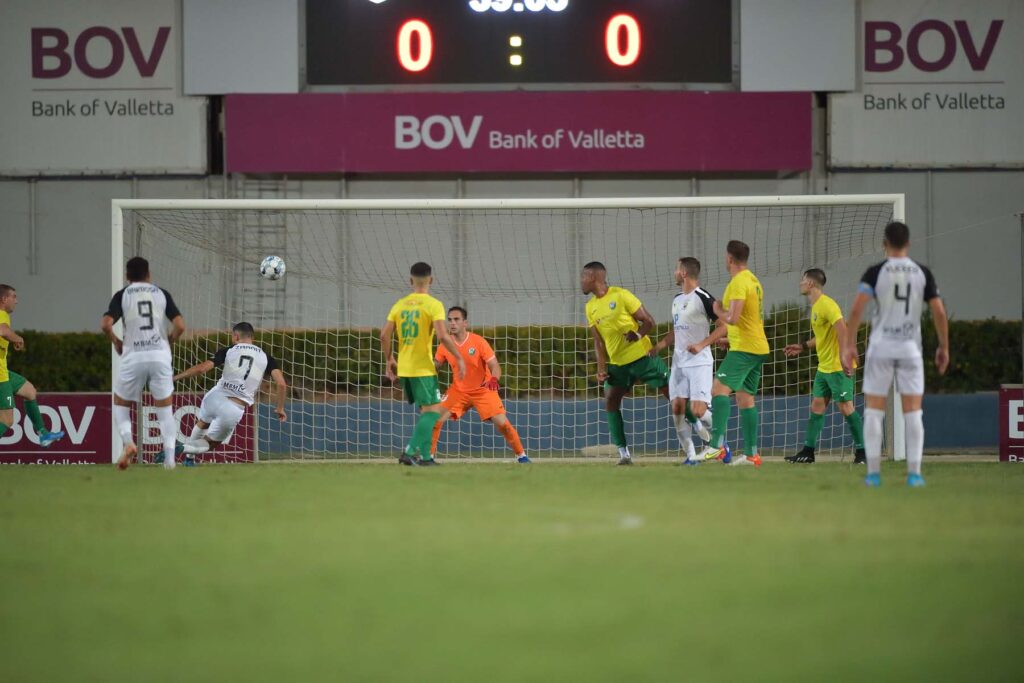 Timeline
Nadur took command of play from the first minutes of play and pushed the Youths to defend their area with many players.  Nadur however was often erratic in their final passes mainly due to their urgency to score an early goal.  Oratory maintained their composure and managed to take the break with a clean sheet.
9' (goal disallowed) Nadur's Marcelo Barbosa headed in the net from close distance following a cross from the left flank by Gennaro Hli but the goal was disallowed for an offside infringement.
14' (crossbar) Nadur missed a golden scoring opportunity when Oratory's keeper Angelo Brignoli failed to hold the ball following a cross by Ian Xuereb from the right flank and Igor Nedeljkovic took advantage but his attempt was stopped by the crossbar.  From the rebound, the same striker arrived on the ball but he concluded incredibly wide with an open goal at his mercy.
21' Nadur's Joseph Zammit had a low shot from outside the area that ended just wide.
40' Nadur were again dangerous when Gennaro Hili delivered a cross inside Oratory's area from the right flank but the header by Joseph Zammit was well saved by goalie Angelo Brignoli.
45' On the stroke of half time Nadur once again missed an open scoring opportunity when Joseph Zammit passed to an unmarked Marcelo Barbosa inside Oratory's area but the latter incredibly lifted the ball over the crossbar from an ideal position.
HT (0-0)
Second Half
After the break Oratory tried to surprise their opponents but Nadur soon regained territorial supremacy and continued to insist in an attempt to take the lead.
4' Oratory's goalie Angelo Brignoli denied Nadur from opening the score when he managed to block a close ranged header by Igor Nedeljkovic following a cross from the left by Gennaro Hili.  In the following action, Nadur's Joseph Mario Vella had a shot from outside the area that ended just wide.
15' The same goalkeeper made another important intervention when he saved a corner from a close ranged shot by Marcelo Barbosa after he exchanged the ball inside the area with Igor Nedeljkovic.
19' A first timer by Igor Nedeljkovic following a cross by Marcelo Barbosa ended away from goal.
22' The same two strikers continued to create danger within Oratory's territory and on this occasion another first-timer by Nedeljkovic, following a through pass by Barbosa, ended high.
26' (0-1) Nadur broke the deadlock when Marcelo Barbosa released Joseph Zammit inside the area and the latter fired towards the upper corner of the net from an unmarked position.
29' (0-2) Nadur converted their superiority by scoring a second goal that arrived through a strike from outside the area by Marcelo Jr Barbosa that surprised Oratory's keeper.
43' The Youths had their best attempt to score a consolation goal but a shot from outside the area by Nikola Sutic ended high.
FT (OY 0 – NY 2)
Referee: Joseph Scerri